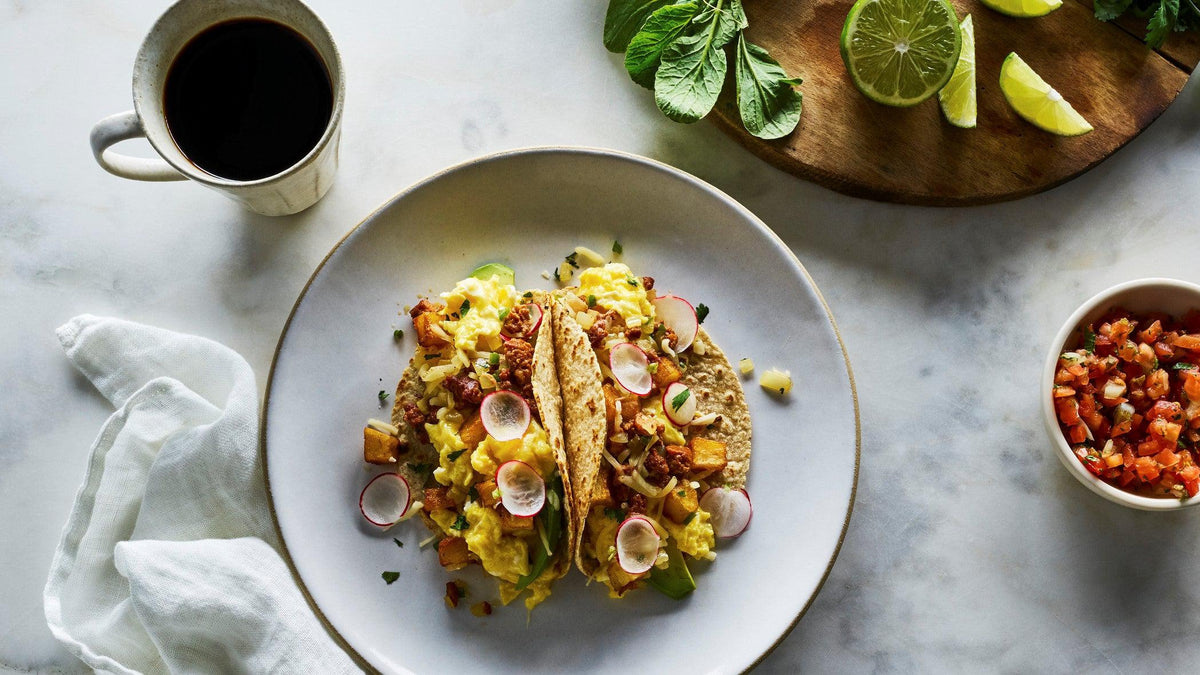 Tasty Tacos for Every Meal
We gathered the best tacos for breakfast, lunch, dinner – and dessert – from the Cabot Cheese Board bloggers and the Cabot website.
Making a taco is like creating a work of art. There are a few simple guidelines, but the end result is limited only by your imagination. Whether you surround your taco filling with a crispy shell or a soft one, flour or corn, baked or fried, even the taco shell is a culinary decision you make to create the taco of your dreams.
The beauty of a taco – beyond its great taste – is that it can be so easily customized to suit even the most finicky eater. While tacos likely originated in the silver mines of Mexico as a means for hungry miners to carry their meals, tacos have captured the hearts – and taste buds – of Americans everywhere. They're tagged millions of times on Instagram, pinned abundantly on Pinterest, and featured on Facebook daily. The celebration of Taco Tuesday has been a thing since 1982, but has emerged as a ubiquitous Internet hashtag in recent years.
According to nationaltacoday.com Americans ate a whopping 4.5 billion tacos last year alone. For the record, National Taco Day is celebrated on October 4, but here at Cabot we like to think that just about any day is a great day to eat a taco.
There are so many ways to create and enjoy a delicious taco. At breakfast, this versatile pocket of yumminess is the perfect vessel for eggs, especially when combined with south-of-the-border elements like peppers, chorizo, and beans.
Vegetarian tacos make a tasty side dish or a satisfying main dish. For meat lovers, fill your shells with beef, pork, chicken, or fish. Because of their nearly universal appeal, making tacos for dinner is almost always a way to please everyone at the table. There are even delicious dessert tacos to satisfy your taco-loving sweet tooth.
---
Let's start with our most popular taco recipes from the Cabot kitchen. Our Grilled Fish Taco is our most-viewed taco recipe, but the others are equally in demand for cooks visiting the Cabot website.
---
The creative and talented members of the Cabot Cheese Board are skilled at tempting their readers with the best taco recipes on the Internet.
Following you'll find a tasty taco recipe for any occasion, any taste preference, and any culinary mood.  We think The Slow Roasted Italian has a great idea. At your next gathering, why not throw a Mexican-themed party and present your guests with a Taco Bar. It's an easy – and totally delicious – way to get the fiesta started!
Or try any of these mouthwatering taco treats:
From Moore or Less Cooking:
From Dixie Chik Cooks:
Pork Tacos with White Cheddar, Poblano Pico and Lime Crema
From Spiced Blog:
From Peas and Crayons:
From Nutmeg Nanny:
From Katie's Cucina:
Strawberry-Raspberry Nutella Dessert Tacos