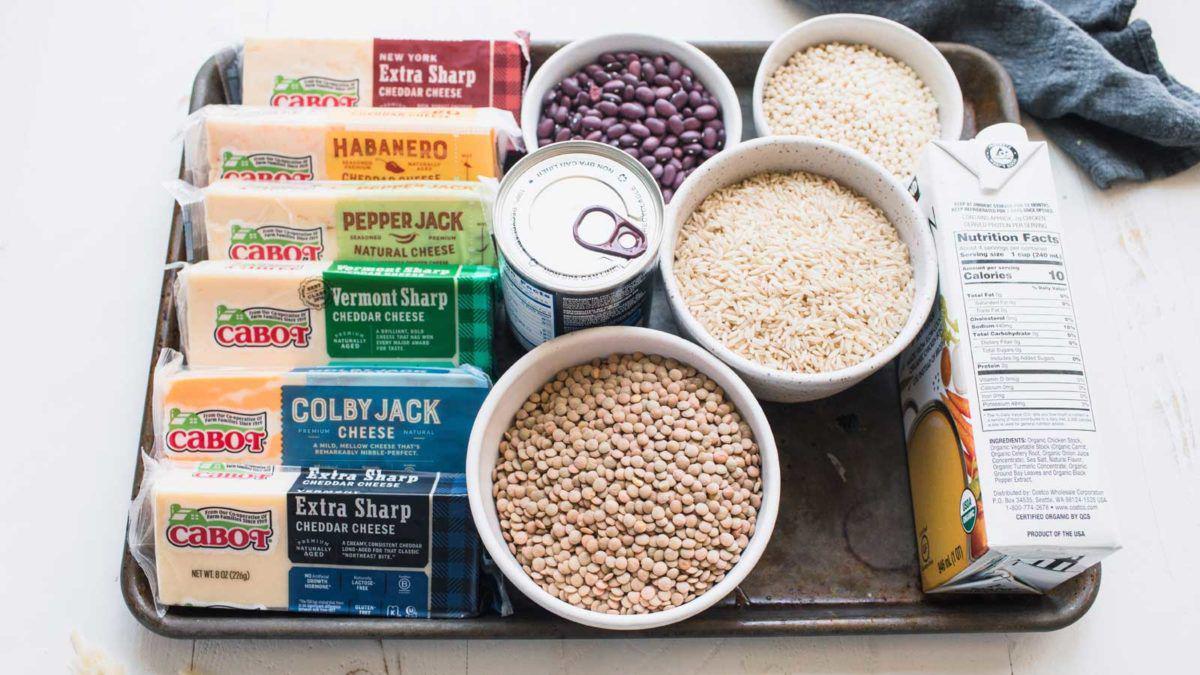 Kitchen Basics
Stock a pantry and cook easy, healthy meals with the essentials. Cooking delicious, nutritious (and budget-friendly) meals at home is easier than most people think. Sure, it takes a little planning up front, but the results are well worth the effort.
Pantry Staples
Having a well-stocked kitchen ensures you'll always be able to prepare a healthy meal with what you have on hand. A well-stocked pantry can provide the base to many healthy meals, especially when it's stocked with mix and match options (think pasta + pasta sauce or beans + rice).
Pantry Staple Ideas
Canned & Jarred Goods:
Dried beans (black, navy, pinto, kidney, chickpeas)
Tuna or salmon packed in water 
Tomatoes (pasta sauce, tomato sauce, tomato paste, salsa)
Chicken, vegetable & beef broths
Unsweetened applesauce
Vegetables (green beans, English peas, corn kernels)
Baking Goods:
Baking soda & baking powder
Whole grain or gluten-free flours
Sugar, brown sugar & stevia
Cocoa powder, yeast, corn starch
Dried fruit/nuts
Condiments & Seasonings:
Salt, pepper & vinegar (cider, wine, balsamic) 
Dried herbs, spices & seasoning blends (chili powder, cumin, oregano, cinnamon) 
Honey & maple syrup
Grains: 
Whole grain or Gluten-free pastas
Whole grain breads & cereals (sandwich bread, english muffins, bagels, tortillas)
High-protein bean- and lentil-based pastas
Whole wheat couscous
Brown rice, quinoa, barley, oats 
Refrigerator Staples
When heading to the store or ordering online, it's important to think through what fridge and freezer staples you may need. Foods that need to be refrigerated have a shorter shelf life, so it's important to purchase only what's necessary (and what you have room for) to ensure you don't waste food or have spoilage. Also, properly storing your Cabot Cheddar helps preserve the bold, creamy flavors you love.
Refrigerator Staple Ideas
Proteins:
Eggs or egg substitute 
Lean sandwich meats (turkey, ham, roast beef)
Dairy:
Milk  
Cabot Greek Yogurt
Cabot Cheese 
Produce:
Fresh fruits
Fresh vegetables 
Dark leafy greens (Romaine lettuce, spinach, arugula) 
Fresh herbs & garlic (mint, basil, cilantro, parsley)
Condiments:
Ketchup 
Soy sauce 
Mustard 
Lemon and Lime juice
Freezer Staples
In addition to preserving extra homemade meals and leftovers, the freezer is a great place to store meats and frozen produce. Did you know you can also freeze cheese? This reduces the chance of fridge food waste as these items can be stored in the freezer longer than in the refrigerator.
Freezer Staple Ideas
Proteins:
Fish fillets and shrimp 
Chicken breasts and thighs
Pork tenderloin and pork chops
Lean ground beef or turkey
Veggie burgers
Produce:
Chopped spinach
Broccoli florets
Cauliflower rice
Peppers and onions
Corn-on-the-cob
Edamame
Berries:
Mango
Strawberries
Blueberries
Mixed berries
Good Snack Choices
When hunger strikes it can be tempting to grab an unhealthy snack. Add items to your kitchen that are not only easy to grab, but nutritious as well. 
Hummus or Guacamole
Baby carrots, peppers or celery
Dried fruit and nuts trail mix
Nut-based or whole-grain snack bars
Popcorn or Jerky
Cabot Cracker Cuts or Snack Sticks
Become a 'Batch Cooker'
Cook meals in larger batches on the weekend and create savings account meals (soups, chili, casseroles), which can be frozen and used later in the week when you're running low on time, or motivation. Also batch meals can be turned into a completely new meal such as, meatballs for spaghetti become meatball subs.
Get organized to save on time when prepping and planning weekly meals.
Take stock of what's on hand, before deciding on your meal plan for the week. Ensure items that are approaching their expiration date or cook-by date are incorporated into your weekly meal plan. When in doubt for what to make with produce that's beginning to look less than its best, try adding it to smoothies, soups, stratas and frittatas.
Keep a binder of favorite printed recipes, a recipe box with recipe cards or a bookmark folder for online recipes to reduce prep time searching for tried-and-true favorite family recipes. Use a detailed shopping list of ingredients for planned meals for the week to ensure you're only shopping once.
Involve the kids in organizing your shopping list making each child "in charge" of a specific area (pantry, fridge or freezer). This can be a great opportunity to teach them organization skills, as well as practice math and learn about proper nutrition.
When it comes to healthy cooking, your kitchen equipment is just as important as the food you are preparing. You don't need a bunch of expensive gadgets, just a few basics.
A few basic kitchen tools every chef should have; cheese graters, measuring cups & spoons, wooden spoons and a vegetable peeler. These are also perfect tools for kids wanting to help in the kitchen. A large skillet (10″ or 12″), stockpot, saucepan or Dutch oven is also a must. Every kitchen needs good sharpened knives; a Chef's knife & paring knife will be suffice. Also be sure to have a steamer basket, strainer or colander and plastic cutting boards (different colors for produce & raw meats). We also love having an Immersion blender, high-speed blender, or food processor and a programmable multi-purpose cooker like an Instant Pot. Be sure to have lots of food storage containers (glass or BPA-free plastic) for all the leftovers.