Building a cheese board is all about visual appeal and variety of colors, textures, and flavors, both sweet and savory. Follow the recipe below or use it to guide you in what types of cheeses, fruits, nuts and meat you would like to include.

Ingredients
1 8-ounce bar of Cabot Seriously Sharp Cheddar (or your favorite classic Cabot Cheddar)

1 6-ounce bar of Cabot Alpine Cheddar (or your favorite Cabot Legacy Collection Cheddar)

1 8-ounce bar of Cabot Wildly Horseradish Cheddar (or your favorite Cabot flavored cheddar)

½ cup fresh red seedless grapes

½ cup black raspberries

2 - 3 fresh figs, sliced in half

1 fresh, ripe pear or apple (any variety)

½ orange, sliced

8 - 10 dried apricots

½ cup walnut halves

½ cup green, pitted olives

¼ pound thin sliced salami

1 box of seeded crackers (or your favorite type)

1 small jar orange marmalade or other sweet condiment

1 small jar of pickled red onions or other small pickle

Fresh rosemary sprigs for garnish
Directions
PREPARE the cheese by either slicing, cubing or breaking off chunks to create a variety of shapes. Start with about half a bar each and add more as needed depending on the size of your board.

PREPARE the fruits by rinsing, drying, and slicing as needed.

ARRANGE the cheese board ingredients on a wooden board or platter. Start with the largest elements of the cheese board like the cheese, placing each flavor in different areas of the board. Fill in the empty spaces with small groups of fruit and the other ingredients like the walnuts and dried apricots, paying attention to contrasting colors and textures to create an appealing board. Fold the salami slices loosely in quarters to create a "flower" and add to the board in a group. Add some crackers in several different areas of the board. Have fun creating a flavorful and pretty food landscape!

PLACE the marmalade, pickles and olives in ramekins or small bowls and place on the board with small spoons or knives as needed.

ADD a few fresh rosemary sprigs to garnish the board.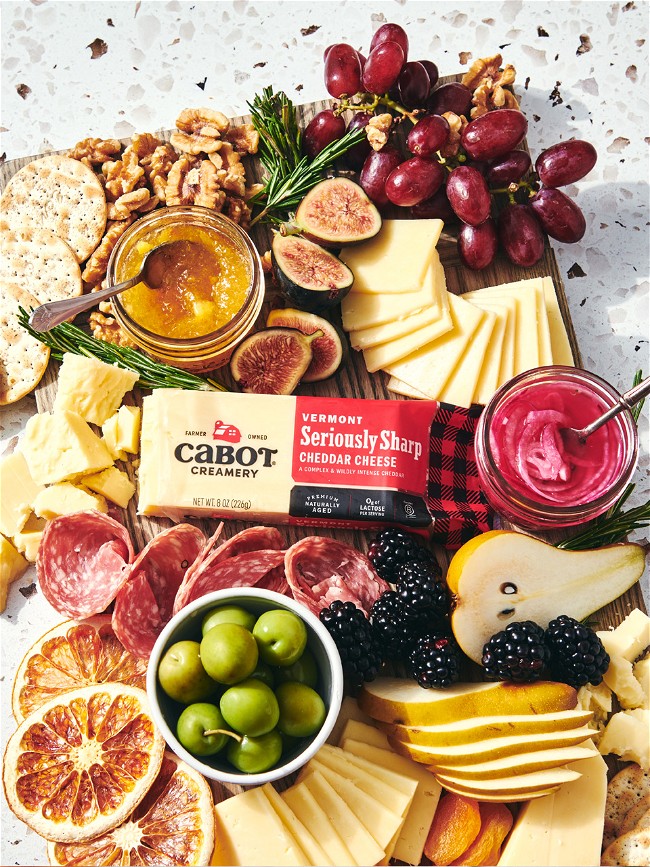 Recipe Tips
A cheese board is an assortment of cheese and accompaniments arranged
on a tray or wooden platter in a visually appealing way in order to serve cheese.

Use this Cheese Board How-to-Guide to help you build a
beautiful and delicious cheese board for your next holiday party.