Masala Spiced Mac & Cheese
Servings
Prep Time
Cook Time
Ingredients
1 pound elbow macaroni
1 tablespoon olive oil
½ yellow onion, diced
1 red pepper, diced
1 jalapeño, ribs and seeds removed, finely diced
1 tablespoon ginger paste
3 cloves garlic, minced
2 plum tomatoes, chopped
1 teaspoon chili powder
½ teaspoon garam masala
½ teaspoon ground cumin
½ teaspoon ground coriander
1 teaspoon kosher salt

¼ cup unsalted Cabot Butter

¼ cup all-purpose flour
3 cups 2% milk

12 ounces Cabot Sharp Shredded Cheddar, (3 cups)

Fresh cilantro, to garnish
Directions
SET a large pot of salted water over high heat and bring to a boil.
COOK the pasta according to package directions for al dente. Drain and set aside.
HEAT the oil in a large skillet over medium heat. Add the onion, red pepper, and jalapeno and sauté until beginning to soften, 5-6 minutes. Add the ginger and garlic and sauté another 1-2 minutes until fragrant. Add the chopped tomatoes, chili powder, garam masala, cumin, coriander, salt and stir to combine.
COOK until tomatoes break down and mixture begins to thicken, 2-3 minutes. Remove from heat and set aside.
HEAT the butter in a large saucepan over medium heat until melted.
ADD the flour and whisk into the melted butter. Cook for 2 minutes, then gradually whisk in the milk. Cook until the sauce starts to thicken, stirring often.
ADD the cheese and tomato spice mixture. Stir to combine and adjust seasonings as needed.
ADD the cooked pasta and stir to combine. Serve.
Nutrition
Nutrition
Serving Size

1/8 recipe
Amount/Serving
% Daily Value
Fat

24 grams
37%

Saturated Fat

13 grams
65%

Cholesterol

70 milligrams
23%

Sodium

700 milligrams
29%

Carbs

54 grams
18%

Sugar

8 grams

Protein

22 grams

Calcium

438 milligrams
45%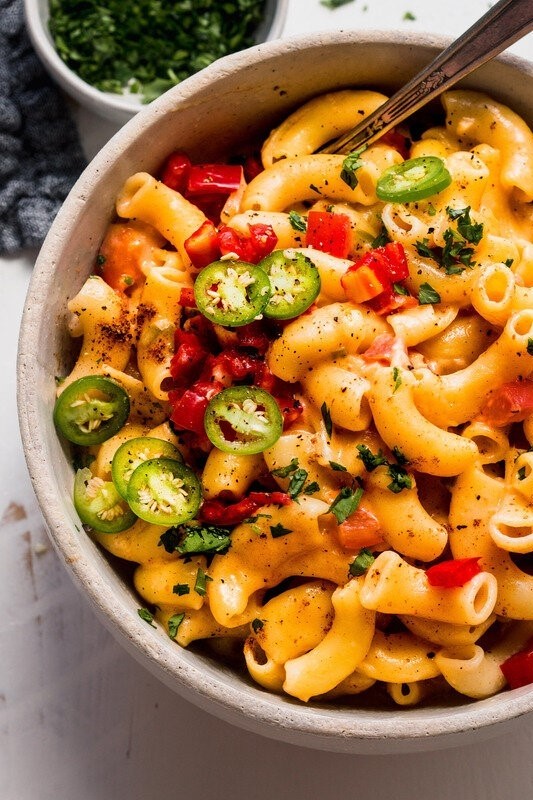 Recipe Tips
For a thicker mac & cheese, add to a casserole dish and bake in a 325-degree oven for 15 minutes. For added protein, add 1 cup of chickpeas or shredded chicken.