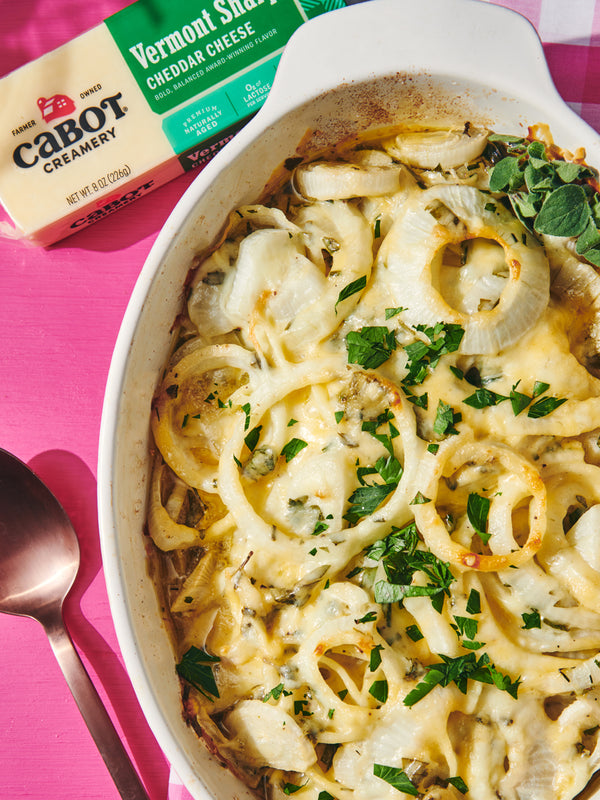 Tennessee Onion & Cheese Casserole
This southern casserole can be used as a side dish for any pot luck or holiday gathering and is a deliciously creamy combination of butter, sweet onions and cheese.
Casserole Dishes & Recipes
Luckily, with a few trusted casserole recipes under your belt, getting dinner on the table doesn't have to continue to be such a struggle.
Be sure to try our Quick & Healthy Potato Casserole, Stovetop Smoked Ham and Broccoli Macaroni & Cheese and, for a lighter casserole dish, Skinny Zucchini Casserole. Of course, casseroles are fantastic options for breakfast too. Whether for a special weekend treat your family will enjoy or for a brunch dish that will impress a crowd, we have some breakfast casseroles you'll find yourself making again and again.
Try our Easy Breakfast Potato Casserole, Cauliflower Breakfast Skillet Casserole, Cabot Sharp Cheddar Grits Casserole, Healthy Hash Brown Casserole and Spinach, Artichoke & Sausage Egg Strata Casserole.
With their great adaptability, ease of preparation and heartiness that satisfies, it's no wonder that casserole dishes continue to be staples in many homes, both for everyday meals and on menu plans for holidays and special occasions. These casserole recipes are sure to become staples in your home too, making meal planning and preparation more convenient and enjoyable.