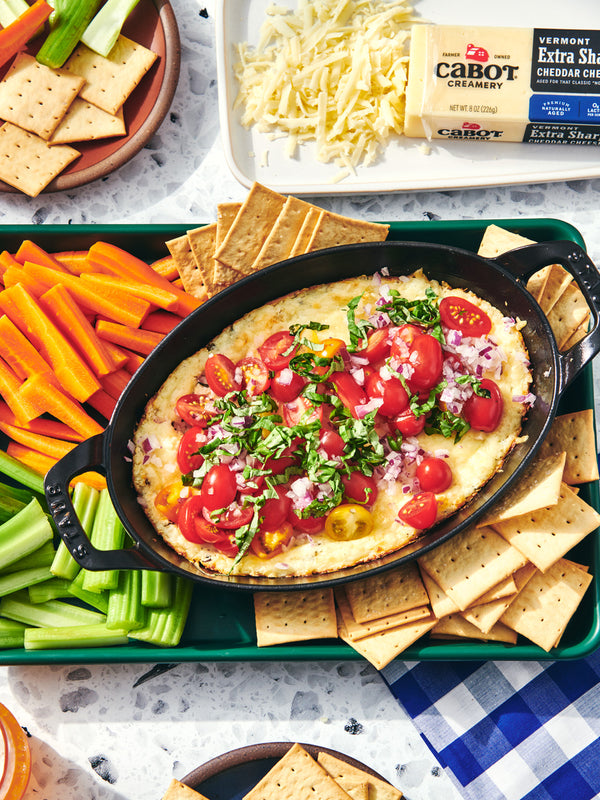 Hot Italian Cheddar Dip
Looking for a tasty appetizer to bring to your next party? This Italian cheddar cheese dip from Cabot is the perfect choice. Check it out now!
Dips, Spreads & Dressing Recipes
Creamy, flavorful and perfect, our farmers' Dips are a snack lover's dream, whether for after school munching, work breaks, or a yummy appetizer at your next get together.
No matter which variety you choose, Cabot Dips add bold, creamy flavor to veggies and chips for sumptuous snacking. Our Dill Dip beautifully combines fragrant fresh dill and our farmers' tangy sour cream for a versatile dip perfect for any occasion. It's also luscious on roasted salmon or potatoes.
Our Ranch Dip features fresh dill, spices, and our farmers' award-winning sour cream, this classic dip offers irresistibly bold, creamy flavor you'll love.
The French Onion Dip features our farmers' rich, tangy sour cream that makes our French Onion Dip classier, creamier and tastier than the rest.
When you're craving bold, Southwest flavor, try our Salsa Grande Dip with chips or fresh veggies for a zesty, cool bite. Garden Veggie Dip features crunchy flakes of pepper, onion, and carrot add luscious texture and flavor to our rich sour cream for a garden veggie dip perfect for any time.