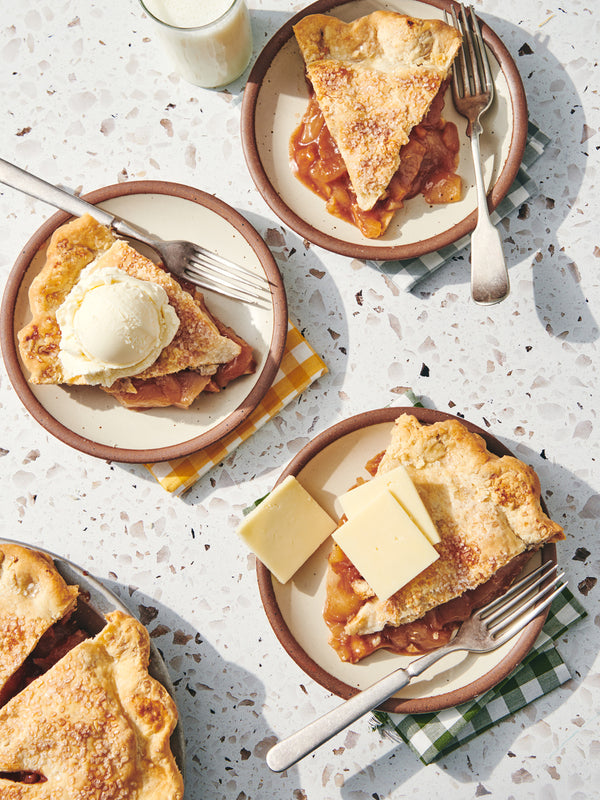 Apple Pie with Cheddar Cheese
Cabot Creamery has a simple, yet delicious Apple Cheddar Pie recipe featuring the sharp, nutty flavor of one of our most popular cheddar cheeses. Ready to try?
Dessert Recipes
Desserts are a welcome treat any day. Whether enjoyed as a delicious way to celebrate a special occasion, shared with a loved one over a conversation, made for a friend or colleague who can use a little cheering up or to give yourself a little reward at the end (or in the middle) of the day.
When you're craving chocolate, try these delicious Greek Yogurt Brownies (try making a Brownie Ice Cream Sundae with them!), this decadent Barstow's Longview Farm's Turtle Cheesecake, this rich Chocolate Layer Cake with Chocolate Frosting, this refreshing Chocolate-Peanut Butter-Banana Smoothie or this yummy Cheddar Cheese Fudge.
Other must-try dessert recipes include Mini Apple Tarts with Cabot Cracker Cuts, Cheddar Cheesecake with Candied Apple Slices, Fruit Popsicles, Strawberry Icebox Cake and Sweet Cheddar Bread Pudding with Apple Butter & Dark Beer Caramel Sauce.
If you're looking for easy dessert ideas, cake recipes or more involved baking recipes, you'll find a ton of inspiration for whatever type of dessert you desire in our extensive collection. Happy baking and dessert making!