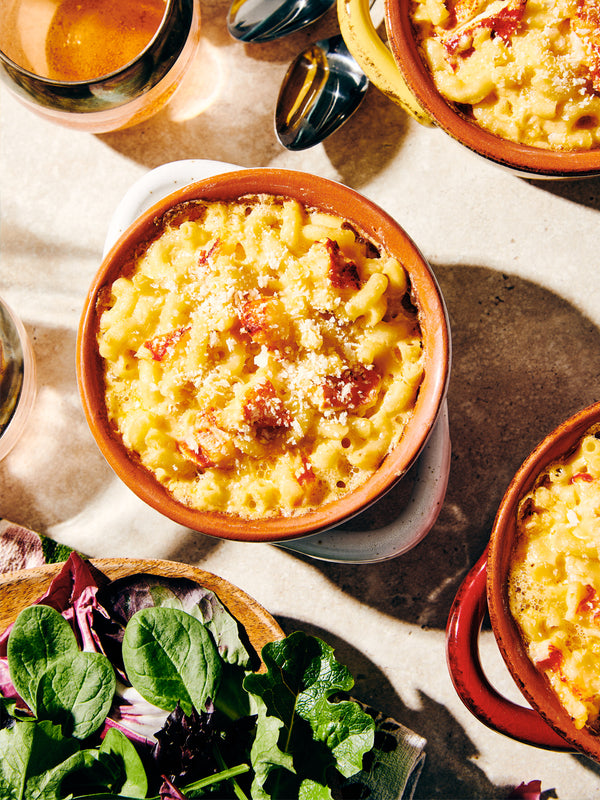 Lobster Mac & Cheese
Try our dangerously delicious lobster mac and cheese topped with breadcrumbs and drizzled with truffle oil. You can thank Cabot later!
Easy & Healthy Seafood Recipes to Delight the Palate
If you're looking for a tasty way to maintain a healthy diet, seafood is a fantastic choice. Seafood is nutrient-rich and contains a multitude of vitamins and minerals as well as omega-3 fatty acids, which are essential for a healthy heart. Don't be intimidated by cooking with fish. Our easy seafood recipes including fresh fish, shrimp and shellfish will get you hooked.
If possible get your fish from a source you trust where it's fresh. If you're lucky enough to live by the coast, you can even get fish caught the same day you buy it. However fresh-frozen on the boat is a great option. So now you have your seafood; you just need some easy seafood recipes.
Fortunately, here at Cabot Creamery, we have some fantastic seafood recipes for you. And what better ingredients to go with the freshest, tastiest seafood than our award-winning cheeses and dairy products? Cheese and cream really bring out the flavor of your seafood! So whether you're looking for salmon recipes, shrimp recipes, lobster recipes or any other type of seafood recipe, don't forget to include the best products our hardworking farmers have to offer.
For a simple dinner for two, try Oven Roasted Salmon with Cabot Cheddar Polenta, or feed a party of four with Smoked Salmon and Cheddar Penne. Please a crowd with Cucumber Salmon Bites or Lobster Salad on Endive. You can even appease even the pickiest of eaters with unique takes on childhood favorites, like Umami Grilled Cheese, Crispy Cheddar Fish Sticks or Spicy Shrimp on Tomato-Cheese Grits - the opportunities are endless.