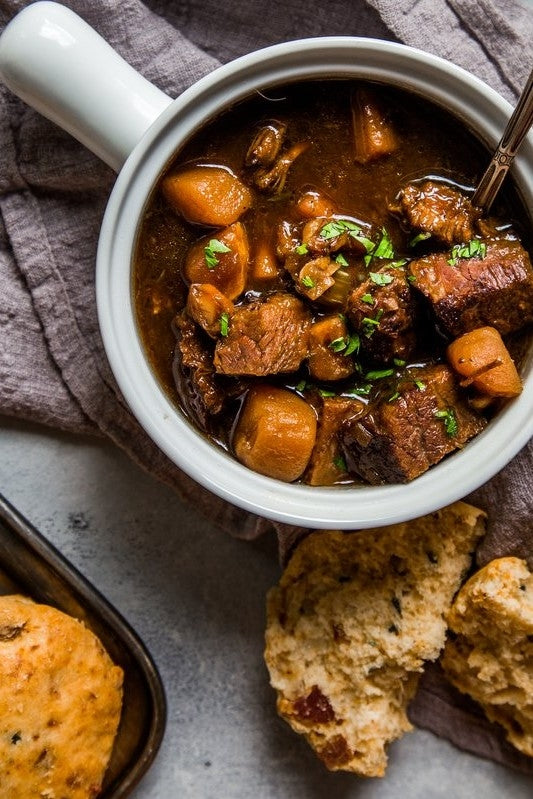 Dark Beer Braised Short Rib Stew with Winter Root Vegetables
Looking for something different for dinner? Try this delicious beer braised short rib stew recipe from Cabot - the family will thank you!
Slow Cooker Recipes
Looking for some new recipes to add to your typical menu? Or are you searching for crowd-pleasing holiday recipes to bring to a gathering? Slow cookers are a fantastic way to make nutritious meals without having to spend hours in the kitchen.
There's nothing like a hot, wholesome meal to bring the family together at dinnertime. Given everyone's busy schedule, it's not always easy or practical to spend time in the kitchen at the end of a busy day preparing a meal. Slow cookers can be the answer to your dinner dilemma. They facilitate a quick-prep, hands-off approach to cooking that makes everyone's life easier.
There's another benefit to preparing food in a slow cooker. It's a great way to start kids on the road to learning real life culinary skills. With these easy-to-execute recipes and minimal supervision, your young chef can make a meal for the whole family with no danger of stovetop mishaps or oven disasters.
Slow cookers are also handy when it comes to make-ahead meals. Slow cooking a pork shoulder on Sunday can create the foundation for several meals throughout the week, like tacos, sandwiches, and salads.
Cabot's signature dish, Mac and Cheese, gets a slow cooker makeover for busy families. Try our Slow Cooker Macaroni and Cheese for comfort food made easier. Or try this Slow Cooker Mexican Quinoa Casserole.
As days get a little cooler, soup or chili is a perfect slow cooker choice. We have two great ways to enjoy a bowl full of yum. Hearty and Spicy Chili is a winner with just about everyone. Or Slow Cooker Broccoli Cheddar Soup will warm everyone up.