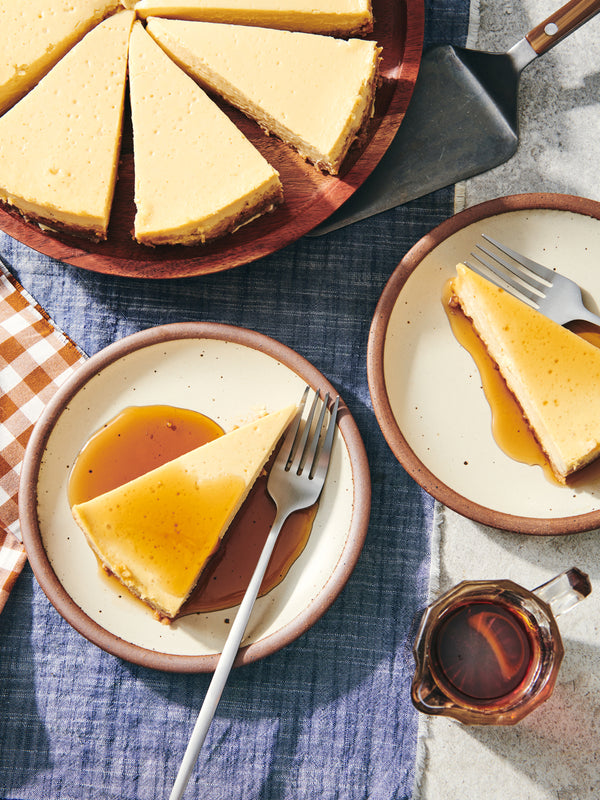 Maple Cheesecake
You have to try this maple cheesecake! Creamy, rich and just the right amount of maple sweetness. Check out the recipe here!
Christmas & Holiday Recipes
Hosting a Christmas breakfast, brunch or dinner? You'll find plenty of inspiration for holiday recipes here. Need tried-and-true Christmas appetizer recipes or desserts to bring to a gathering? We've got you covered there too!
For Christmas appetizers, you'll want to check out our Cranberry Cheddar Pita Bites, Festive Cabot Cheddar Tree, and Holiday Cheddar Wreath.
For casseroles that are easy to make and convenient to carry, try our Savory Bread Pudding with Cheddar or our Cheddar Green Bean Casserole, a delicious version of this classic holiday dish.
For a truly decadent Christmas dessert, you can't go wrong with this Sweet Cheddar Bread Pudding with Apple Butter & Dark Beer Caramel Sauce! Be sure to browse through our other mouthwatering desserts too like Linzer Cookies.
There are so many parts of the Christmas holiday to love and we won't deny that food is definitely one of them!
But, with all the busyness that this season typically brings, holiday meal planning and searching for recipes can become overwhelming and time-consuming. That's why we've gathered all of our best Christmas recipes together in one place. Take some of the holiday planning stress off your plate and use this recipe collection to help you conveniently determine what foods you'll be making this Christmas.