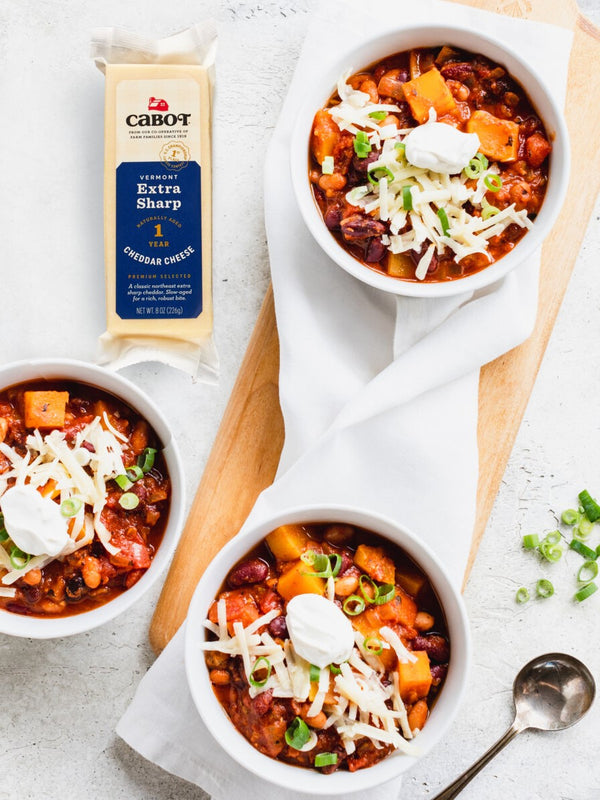 Instant Pot Butternut Squash Chili
This easy Instant Pot Butternut Squash Chili with Cabot's award-winning cheddar and Greek Yogurt is sure to please.
Instant Pot Recipes
Have you joined the instant pot craze yet or is yours still in its box because you're hesitant to try it? Whether you're already using your instant pot regularly or you're just getting started with this versatile kitchen appliance, you'll find instant pot recipes that are perfect for you in our collection below.
Trust us, instant pot meals will completely change how you feel about making dinner, enabling you to easily get delicious meals on the table on even the busiest nights. Once you get the hang of using your instant pot, you'll love how much you can do with it and how is streamlines your cooking process. Use it as a pressure cooker, slow cooker, rice cooker, steamer and even as a yogurt maker!
There are so many great foods you can make. We promise that if you don't already love this tool, you will soon. Get started by picking one of our instant pot recipes like Instant Pot Butter Chicken, Instant Pot Chile Con Carne or Instant Pot Risotto with Corn, Cheddar and Bacon and try a different recipe each week. Before you know it, you'll be an instant pot pro!