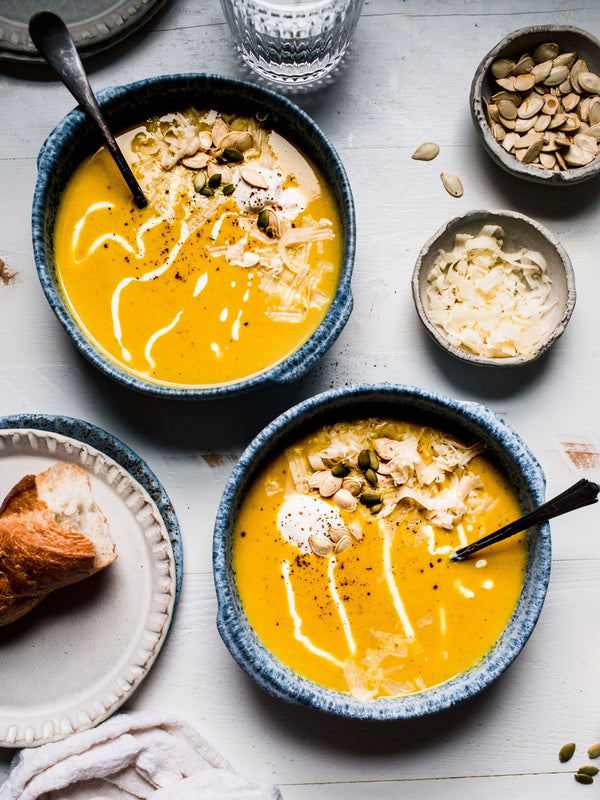 Pumpkin Soup
Fresh sugar pie pumpkin, flavorful spices and coconut milk make this cozy soup a "must try". Top with toasted Pepitas and sharp Cabot cheddar for a real winner!
Pumpkin Recipes- Pumpkin Pie & Desserts
Synonymous with autumn and early winter holiday gatherings, pumpkin pie is a dessert that everyone is familiar with. In recent years, pumpkin has taken center stage in seasonal beverages, with pumpkin ales and pumpkin lattes on menus everywhere. The pumpkin love doesn't have to stop there — plenty of savory pumpkin recipes, such as Pumpkin Souffle With Habanero Cheddar, are ideal when the occasion calls for something healthy and hot to warm on a cold evening. Suitable as part of a holiday feast or a standalone entrée, this souffle also makes great leftovers that can be served warm or cold.
Zucchini Bread With Pumpkin Seeds can be served warm from the oven or saved for later for a delicious take on French toast, especially its served with spreadable cheddar cheese. This bread is also an excellent accompaniment to winter soups and stews or enjoyed on its own as a healthy snack. Craft a Pumpkin Holiday Cheese Ball for your holiday appetizer table and serve it with your favorite water crackers.
When fresh pumpkin is no longer part of the picture, canned pumpkin recipes can step in for those who want their pumpkin 12 months out of the year. Use it in pies, pasta, pumpkin rolls, and anything else that you can make with fresh pumpkins. Browse the rest of our pumpkin recipes for more inspiration on including pumpkin in your diet.