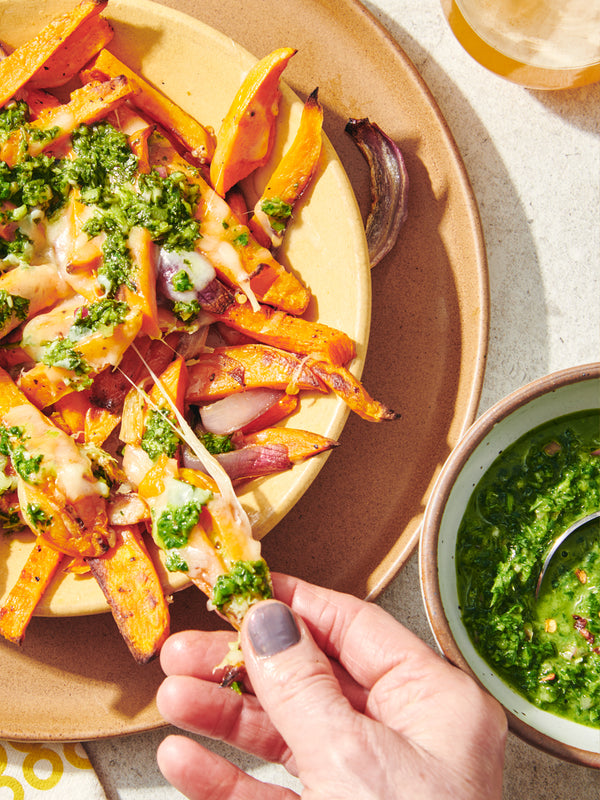 Roasted Sweet Potato Poutine with Chimichurri
This Roasted Sweet Potato Poutine recipe with a tangy Chimichurri Sauce will bring a welcome new side dish to the table. Try it and leave a review!
Roasted & Baked Sweet Potato Recipes
Having successfully transitioned from a trend into a classic, sweet potato fries are featured on menus across the country, but not all sweet potato recipes have reached the same level of recognition. Although they have long been one of the quintessential autumn flavors of regional cuisine, many home cooks have yet to discover the range of possibilities the sweet potato brings to the table. Whether Chicken and Sweet Potato Pot Pie, Sweet Potato Chipotle Cheddar Soup, or old-school sweet potato pie served as a grand finale to holiday dinners in the American South, sweet potatoes have a nuanced sweetness that works in various dishes.
If you haven't brought a bag of sweet potatoes home from the market yet, you still have plenty of time to get in on this fall's harvest. Like many root vegetables, sweet potatoes shine most brightly when roasted, so don't be afraid to roast a tray to use throughout the week in different meal entrées. Roasted sweet potatoes can be diced and tossed into pasta dishes, mashed and mixed with whole wheat pancake flour to create a nutritious and delicious breakfast, or included in a delightfully different Buddha bowl with dried cranberries, brown rice, Cabot Pepper Jack Cheese, kale, and toasted pumpkin seeds.
Perfect for bringing color, warmth, and nourishment to a late autumn or winter meal, you don't have to be vegan or vegetarian to fall for this meatless Roasted Sweet Potato Poutine With Chimichurri. Cheesy Sweet Potato Coins With Chipotle Crema can be ready in less than 30 minutes if you need something quick and easy to temp the picky palates of children.
Check out our other sweet potato recipes for more inspiration on bringing their goodness to your table.