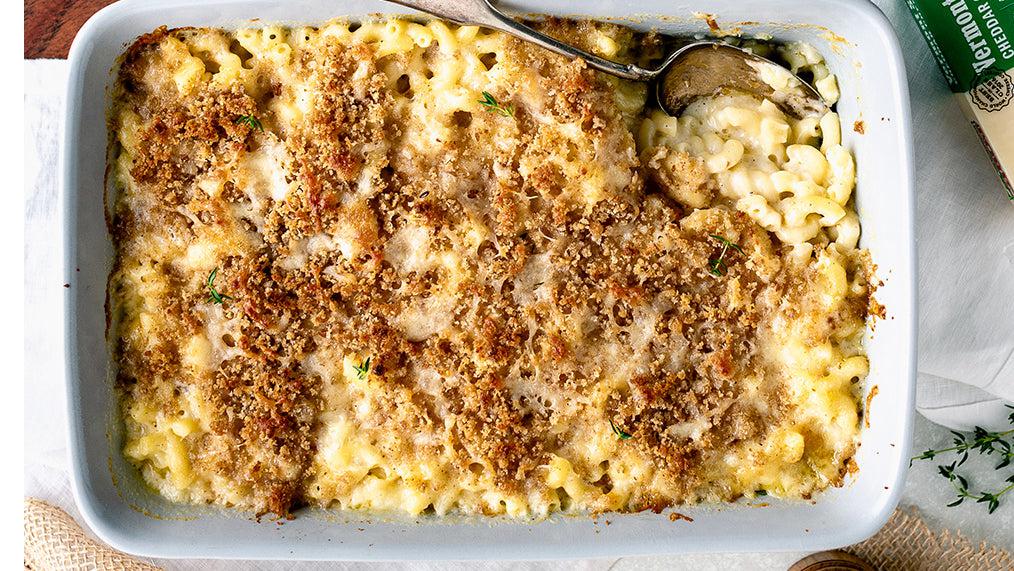 The Best Mac & Cheese Recipes on the Internet
The Best Mac & Cheese Recipes on the Internet
The Cabot Cheese Board presents their favorite variations on an American culinary classic.
You would be hard pressed to find a more popular, family friendly, crowd-pleasing dish than classic Macaroni and Cheese. Its provenance goes back centuries, to the court of French kings, then on to the British Empire.
The first written recipe for this dish seems to be from a cookbook called The Experienced English Housekeeper, published in 1769. It's a recipe not too far removed from modern day mac and cheese, consisting of a bechamel sauce with Cheddar, mixed with macaroni, sprinkled with Parmesan, then baked until bubbly and golden. Sounds familiar, right?
Fast forward 250 years, and you can see that this dish truly has staying power. And while people all over the world love this tried and true comfort food, it's also true that famous chefs and home cooks alike are eager to experiment with the basic preparation.
The wonderful thing about macaroni and cheese is that it starts as a blank canvas and lends itself to flights of foodie fantasy. Feeling elegant? Add lobster or shrimp. Maybe you want a little healthier version. Nothing perks up the cheesy goodness more than your favorite veggies. Maybe meat's more to your liking. Adding steak, ground beef, chicken or turkey can make a one-pot meal in minutes.
With a little culinary experimentation, you can even make exciting internationally themed versions of mac and cheese with choice ingredients. Add chorizo and salsa for a Mexican flair. In the mood for Italian? Toss your cheese covered macaroni with chopped basil and tomatoes. Adding bratwurst brings a German flair to the proceedings.
The variations on this delicious theme are almost endless. And you can see by this list of favorites from the Cabot Cheese Board, each one looks better and tastier than the next.
Click through to each of these inventive and exciting recipes to find a mac and cheese dish that's just right for you.
We'll start by giving props to Cheese Board member Molly Yeh, who shows us how to throw the perfect Mac & Cheese party. What a great idea, don't you agree? I can't think of a better way to entertain and satisfy hungry friends.
Whether you decide to throw a party for a crowd or just make it the tastiest stay-at-home night ever, here are some of the best Macaroni & Cheese recipes you'll ever come across, gathered together in one amazing list. You can thank us later.
Here's an easy, basic recipe from Bless This Mess:
Creamy One Pot Macaroni and Cheese
And then, it's off to the races, with more than forty fantastic ideas for your next mac and cheese meal.
From Nutmeg Nanny:
Beer Bratwurst Macaroni and Cheese
From The Lean Green Bean:
Macaroni and Cheese with Sausage and Peas
From the Slow Roasted Italian:
Jack Daniels Bacon Mac and Cheese
Super Simple Mac and Cheese Italian Style
From Back to Her Roots:
Bacon Sriracha Macaroni and Cheese
Bacon and Brie Macaroni and Cheese
From The Brown Eyed Baker:
Cajun Shrimp Macaroni and Cheese
Butternut Squash & Bacon Mac n' Cheese
From Good Life Eats:
Asparagus and Bacon Macaroni and Cheese
Baked White Cheddar Mac n Cheese with Kale and Bacon
From Running to the Kitchen:
Creamy Greek Yogurt Mac 'n Cheese with Peas and Bacon
Sweet Potato Spinach Mac and Cheese
From Eats Well with Others:
Buffalo Cheddar Mac and Cheese
Spicy Harissa Macaroni and Cheese
From Healthy Seasonal Recipes:
Cauliflower, Pea and Edamame Macaroni and Cheese
From Shugary Sweets:
Copycat Panera Macaroni and Cheese
From Bake Your Day:
Spinach Queso Macaroni and Cheese
From A Dash of Soul:
Greek Yogurt Macaroni and Cheese
From The Little Kitchen:
From Rachel Cooks:
From Well Plated:
Spinach and Artichoke Mac and Cheese
From Peas and Crayons:
From Foodness Gracious:
Jalapeno Poppers with Mac and Cheese Cheetos
From Dine and Dish:
From Mel's Kitchen Café:
Fire Roasted Mac and Cheese with Feta
From Seasonally Jane:
Truffled Mac and Cheese with Kale
From Healthy Nibbles and Bits:
Macaroni and Cheese Prosciutto Bites
From Inspiralized:
Spiralized Mac and Cheese Two Ways: Butternut Squash and Sweet Potato
From Cooking with Cakes:
Bourbon Bacon White Cheddar Mac and Cheese
From Buns in My Oven:
Barbecue Mac Grilled Cheese Sandwiches
From The Comfort of Cooking:
Creamy Stovetop Jalapeno Bacon Macaroni and Cheese
From Dixie Chik Cooks:
French Dip Mac n Cheese Smothered French Fries
From Julie's Eats and Treats:
From Pass the Sushi:
From Savory Simple:
French Onion Soup Macaroni and Cheese
From Cooking with Books:
From Meal Makeover Moms:
In addition to all these yummy dishes, be sure to visit the Cabot website where you'll find lots more great ways to make Macaroni and Cheese.