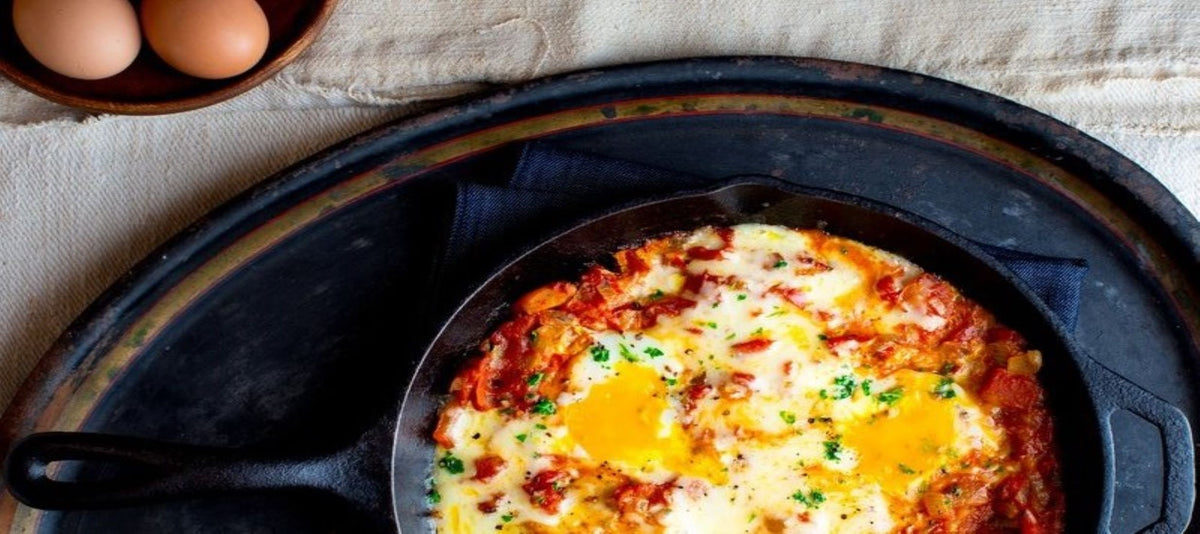 Cast Iron Cooking
Cast iron skillets are the quintessential kitchen tool: they look great and cook great on a stovetop, they're ovenproof (you can roast a chicken in one or crisp up a frittata under the broiler, no problem) and they're one appliance that will last practically forever.
We love our Lodge Cast Iron skillets here at Cabot, but any cast iron skillet can be re-seasoned and re-used (keep an eye out for them at tag sales, flea markets and antique stores).  
---
Tips for taking care of your cast iron!
We're sharing the three main steps for keeping your favorite skillet looking brand new!
WASH
A great topic of debate is using soap when washing your skillet. Our friends at Lodge say that it IS ok to use a little soap if necessary. Usually though, a scrubber brush, or even a chainmail scrubber works great for getting rid of stuck on food.
DRY
Drying your skillet is important – we don't want any rusty skillets! Dry the outside and inside after washing.
OIL
It's important to oil your skillet after each wash to retain the seasoning. Lodge says to use an oil with a higher smoke point. Learn more about which oil to use here.
---
We use our Lodge skillets daily for cooking up everything from an egg for breakfast to a pizza for dinner—and so much more. And lucky for you, if you own skillet we have tons of recipes that utilize them. They really are the perfect match for our dairy filled classics.
See for yourself:
A traditional Monte Cristo is absolutely delicious: made with ham, cheese, a bit of mustard and mayo—dipped in egg and cooked like French toast! We put a Vermont spin on this recipe with ham or sausage patties, Cabot sharp cheddar, apple cider vinegar and Granny Smith Apples—cooked in a skillet of course! 
Cheddar Corned Beef Hash with Eggs Recipe 
This skillet dish will have the whole family begging for more. It features sharp Cabot cheddar, corned beef, golden potatoes and runny egg yolks—perfect for breakfast, lunch or dinner! 
Queso Fundido with Sausage & Caramelized Onions 
This dip is prefect for any party spread: serve it up in a skillet next to a bowl of tortilla chips for dipping! Made with kielbasa sausage, lager beer, caramelized onions, sauerkraut and a combination of Cabot Seriously Sharp Cheddar and Cabot Monterey Jack cheese, we will tell you this: it's gonna go fast… 
This skillet pizza is the perfect recipe for a date night (it serves two). Marinara sauce, chopped fresh basil and Cabot Alpine Cheddar combine for a light and tasty pizza. Pair with wine and your favorite salad. Cheers! 
This every-meal-skillet is a mix of eggs, spices and veggies. The name of the dish translates to "all mixed up" — and truly, it's that simple to make! It looks so pretty, too. 
These soft and fluffy pull-apart rolls coated in gooey melted Cabot cheddar are just the best. They're the perfect brunch menu recipe to impress guests, and always ideal to serve on the weekend to surprise your family on a lazy Saturday morning.
Apple Crisp with Cabot Cheddar 
This crisp is melt-in-your-mouth delicious. Adding Cabot Cheddar to the crumble makes is even better. Set it on a trivet to serve it in the skillet you baked in!