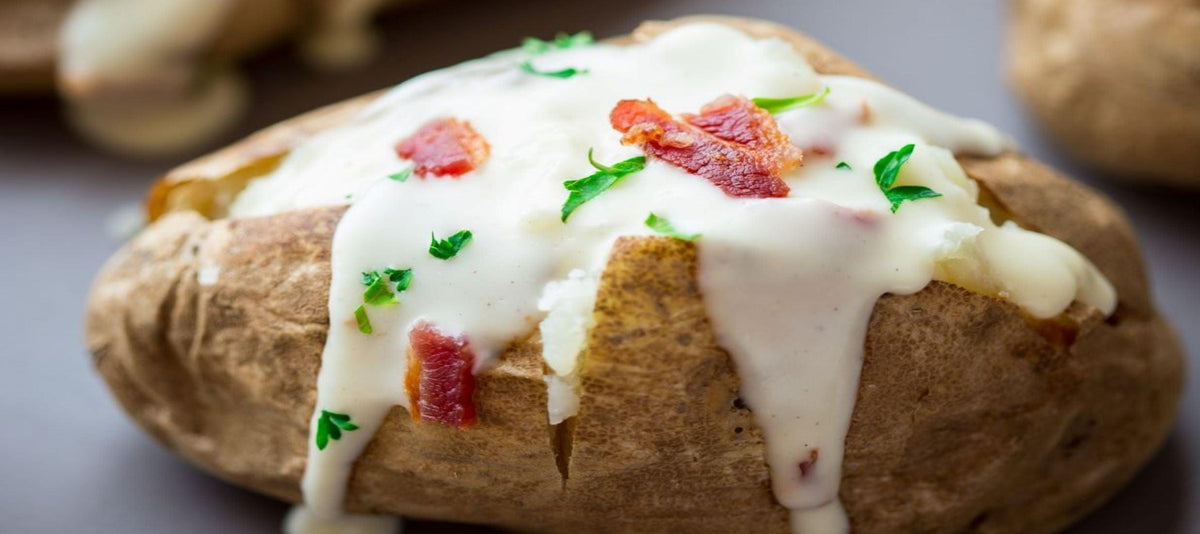 The Best Cheese Sauce Recipes and Ideas from The Makers of The World's Best Cheddar
Our favorite cheese sauces and how they can transform a dish from OK to Outstanding!
There's something about adding a rich, creamy cheese sauce to the simplest dish that causes a culinary transformation. Even basic broccoli becomes a thing of tasty beauty when drizzled with warm, luscious cheese. A plain baked potato practically begs to be elevated by a great cheesy sauce. Whether you like it over eggs in the morning or roasted veggies at night, a full-flavored, velvety cheese sauce makes every food it flavors just that much better.
Cabot Chef Jimmy Kennedy is a huge fan of a simple cheddar cheese sauce that he uses both at home and on the road when he's cooking on the Cabot Gratitude Grille. "It's as easy as combining Cabot butter, flour, milk, and a healthy portion of Cabot Extra Sharp Cheddar," the Chef explains. "Quality ingredients create a rich, smooth cheese sauce that can be the basis for a host of delicious dishes. The depth of flavor in Cabot Cheddars is the key to a perfect sauce."
By adding ingredients to a basic sauce, there are dozens of ways to transform it, variations on a cheesy theme. Take this Jalapeno Cheese Sauce recipe. It calls for Cabot Pepper Jack Cheese as well as jalapenos and spices working together for a flavorful sauce that is perfect for game day chip dipping. But don't stop there; it's also great on veggies, chicken strips, or meatballs.
But wait, there's more! Every one of these fantastic Cabot cheese sauces would make a unique and delectable Macaroni and Cheese. Just pour your sauce over your favorite pasta shape and voila! Stovetop Mac & Cheese in a few minutes. Serve with a salad and you have a memorable meal.
Try one of our tasty cheese sauces for your next meal. Or let your imagination soar and create one of your own variations on a classic cheese sauce. Don't forget to share your favorite in the comment section below!
Here's a video of Chef Jimmy Kennedy whipping up his classic Cheddar Cheese Sauce with Janice from Meal Makeover Moms on the Cabot Farmers' Gratitude Grill: