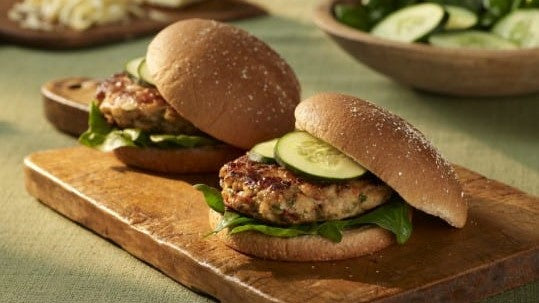 Family Favorite Grilled Chicken Recipes
Grilling, it's an American institution. This time of year, it's practically the national sport. Whether you have a hibachi on your apartment balcony or a full service outdoor kitchen with all the bells and whistles, for many of us, the warm weather means we want to cook over an open flame.
Why is it that food tastes better when cooked on the grill? Is it the slightly smoky taste? The sear and slight char the high heat of a grill creates? Maybe it's the pull of our primal ancestors and the lure of the dancing flames.
Few foods lend themselves so readily to outdoor cooking than chicken. Something as classic and basically elegant as a perfect roast chicken can be achieved on the grill. Just ask our friends at the Big Green Egg. Their recipe for Roast Chicken with Lemon and Garlic is so simple, and yet few dishes are quite as welcome or satisfying as this one.
One of the many great things about the grilled chicken recipes found on the Cabot website is how easy they are to make. Be prepared to be dazzled with our favorite grilling recipes & sides from the Cabot kitchen.
In Italy they call it Panzanella, where it originated as a way to make a delicious meal out of stale bread. Cabot's version is this Cabot Summer Bread Salad. It has all the tastes of summer in a bowl, including fresh tomatoes and herbs,  topped with a flavorful, garlicky dressing. A perfect side for Grilled Chicken.
The humble pita pocket is transformed into something special when you add grilled chicken and this incredible spread. Try our Grilled Chicken Pitas with Basil Cheddar Mayonnaise for an irresistible summer treat. Pop a few in the cooler for your next picnic.
Grilled Chicken can also be made into excellent sandwiches. We recommend this Greek Yogurt twist on the classic Chicken Salad. 
Here's a sandwich that is second to none. Try these Rosemary Grilled Chicken Sandwiches with Cheddar & Black Forest Ham at your next cookout. They're a sophisticated alternative to plain burgers, bound to please even the most discerning palate.
Now that you're armed with some truly memorable chicken grilling recipes, we suggest you get outside and make the most of this great grilling season!