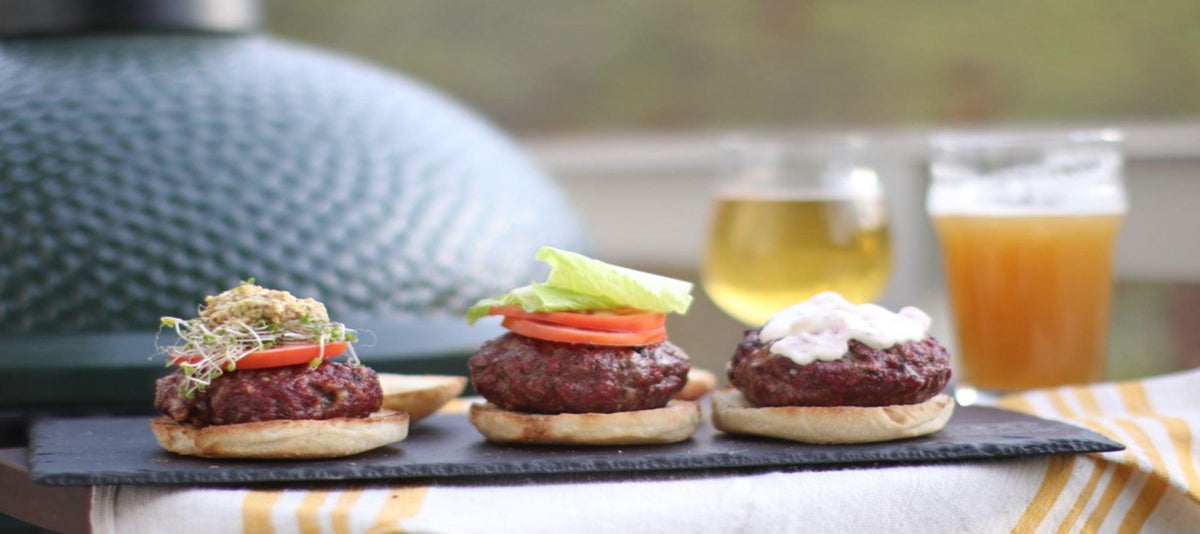 Cabot's Guide to Hosting a Backyard BBQ
A barbecue is more than a meal. It's a moment to catch up, reflect, and share in the company of friends and family. A cookout is a little slice of community right in your backyard. It's only right you make a meal that will please your crew and leave them praising your skills on the grill.
Here are six tips to make your next barbecue one people won't soon forget:
---
1. Gas or Charcoal: The Great Debate.
First things first, what kind of grill to use. Both gas and charcoal grills will get the job done. A gas grill is certainly more efficient. Turn it on, bring to temp, and get grilling. A perfectly fine way to feed the masses.
A charcoal grill does require more time and attention, but if you are going to be hanging in the yard all afternoon anyway, why not take your time with the cooking? Charcoal imparts some mighty fine flavor on anything you grill up.
The debate about grills is a heated one, so you may have to agree to disagree with your guests on which one is superior!
---
2. Prep the Snacks
People are likely going to arrive hungry and those ribs you are smoking aren't going to be ready for another two hours. Have snacks ready. As one would imagine, we recommend a cheese board! Don't be afraid to bring a variety of items to that perfect board!
QUICK TIPS:
* Whether it's BYOB or you are providing libations, be sure to offer up some pairing options for people to try. Here are some recommendations on pairing beer and cheese.
* Have a basket of your craziest koozies out for people to pick from. It will bring some funky character to people's beverages, not to mention endless stories about how exactly you procured such a random koozie collection.
---
3. Prep the Meal
Any good barbecue starts with good prep. Try to chop, cut, marinate, and lay out your meal before guests arrive. That way you can enjoy a lively conversation or two before the grilling goes down.
QUICK TIPS:
* Cabot convenience items can help speed up the prep work. Both Cabot Shreds and Cracker Cuts are ready to go options for your favorite burger recipes.
*Simply add your favorite shredded cheese variety right into the burger mixture! Cheddar, chopped onions, and salt and pepper are all you need to add to craft the perfect burger.
* Make two thin burger patties, put a Cabot cracker cut on one, and stack 'em together enclosing the cheese for a burger that will burst with the World's Best Cheddar in every bite.

---
4. Light the Fire!
As the grilling gets underway, you will surely attract a crowd and the 'backseat drivers' will come out of the woodwork. (If Cabot favorite and grilling workhorse the Big Green Egg is involved, expect a lot of questions and comments about how cool your grill is.) Best advice, say 'thank you' and forge ahead with your grill plan! Don't let alternative techniques thwart your own genius. You do you!!
QUICK TIP:
* Two words: Lawn. Games.  One way to distract your know-it-all grill master friends is by making sure you have lawn games set up and ready to play.  Kan Jam, Cornhole, Horseshoes, or Kubb are all great options.
---
5. Make it Interactive
While it's easy to throw some burgers on a plate and call it good, why not lay out a burger bar? It's another way for your guests to express themselves and kick your hosting skills up a notch.

QUICK TIPS:
* While those bottles of ketchup and mustard are classic staples of a cookout, putting condiments in bowls can enhance the aesthetic of your burger bar.
* Instead of a bigger is better mantra, think about making mini-sliders instead. Whether beef, chicken, or pork, the smaller sized sliders let people take advantage of all the toppings you offer up.

---
6. Breathe, Relax, Have a Laugh
You've done it. Meal is made, no disasters, and folks are chowing down. Take a moment to enjoy your company, get all the gossip, and share in a few laughs.
QUICK TIP:
* Have a game handy. Jenga, catchphrase, or even just a deck of cards. Games can keep the conversation going and your guests engaged before the party winds down for the night.
---
So what are you waiting for??  It's time to start planning your next great backyard barbecue!