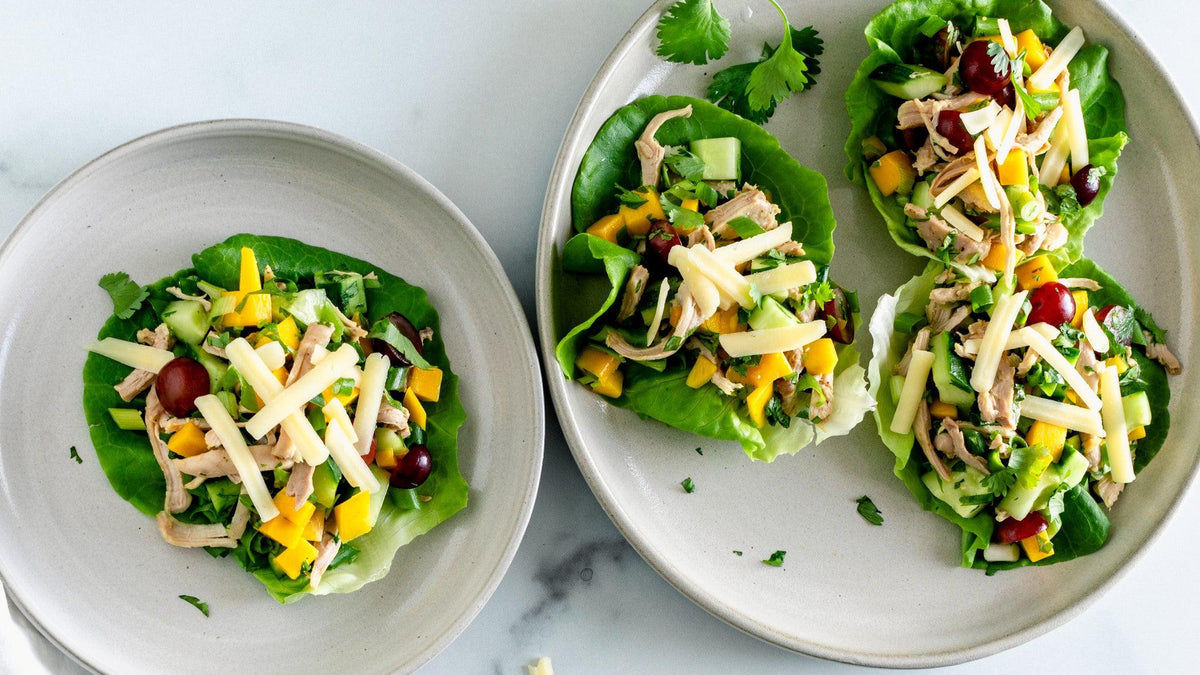 Health Benefits of Cheese
Let's face it, cheese used to get a bad wrap when it came to talking "healthy" foods. Caught up in the fat-phobia of the 90s, for years people worried that their beloved block of cheese was doing more harm than good to their waistlines. Current thinking, though, has many researchers wondering if the cautionary tale was a bit too far reaching. So, is cheese good for you? It certainly boasts some real health benefits, and cheese in moderation is now often recommended as a part of a healthy diet.
---
Here's why:
High in Protein. One itty bitty ounce of cheese contains on average 7 grams of protein. Protein is our bodies' power house for cellular growth and healing. Amp up your protein and muscle gains with some cheese and crackers post workout.
Low in Carbohydrates. Cheese has minimal impacts on blood sugar, due to its low amount of carbs (usually less than 1 gram) per serving. Diabetics and low-carb dieters can rejoice. Pair cheese with a medium sized apple for a diabetic-friendly snack.
Calcium Powerhouse. Cheeses, along with other dairy products, are excellent sources of calcium. Calcium, especially as we age, is critical for bone health, especially in women, who tend to have higher rates of osteoporosis. Cottage cheese and fruit for dessert makes an sweet treat for good bone health.
Lactose-Free. Cheddar and some other well aged cheeses have minimal amounts of lactose due in part to the cheese-making process. This is great news to those that experience the uncomfortable symptoms of lactose intolerance. Feel free to enjoy a cheddar cheese burger once again!
DASH Diet Friendly. The DASH diet (Dietary Approaches to Stop Hypertension) has been shown to reduce the risk of chronic high blood pressure and it also doubles as a general healthy-eating guide for those looking to lose weight. Low-fat cheeses and dairy products are paired with fresh fruits, vegetable and whole grains to achieve a lower fat and lower sodium diet. Try a grilled chicken sandwich on wheat bread with low fat cheddar, lettuce and tomatoes for lunch.
One serving of cheese is one ounce which is one slice, 1/4 cup of shredded cheese or one small cube the size of a pair of dice.
---
Healthy ways to add cheese benefits to your menu:
Sprinkle. Salads, casseroles, sandwiches and even entrees can be amped up in protein and calcium with a sprinkle of cheese here and there. Sprinkle away at dinner with this Cheesy Chicken Stuffed Spaghetti Squash or at lunch with these Asian Chicken & Cheddar Lettuce Wraps.

Flavor. A little bit of flavor goes a long way. Pick quality cheese with distinct flavors. Smoked cheeses or aged cheese tend to be stronger, but every Cabot cheese has distinct flavor so change it up all the time! Spice things up with these Cracker Appetizer with Habanero Cheddar & Mango Salsa or power up with this Roasted Roots Power Bowl with White Oak Cheddar.

Make a Pair. Snack with fruits and veggies, whole wheat crackers or lean cuts of meat. Choosing other healthy counterparts ensures that your snack or meal will be well worth it as a whole. Take this Charcuterie Lunchbox on the go!
Check out all the ways our Health Team recommends enjoying Cheddar as a part of a healthy diet.