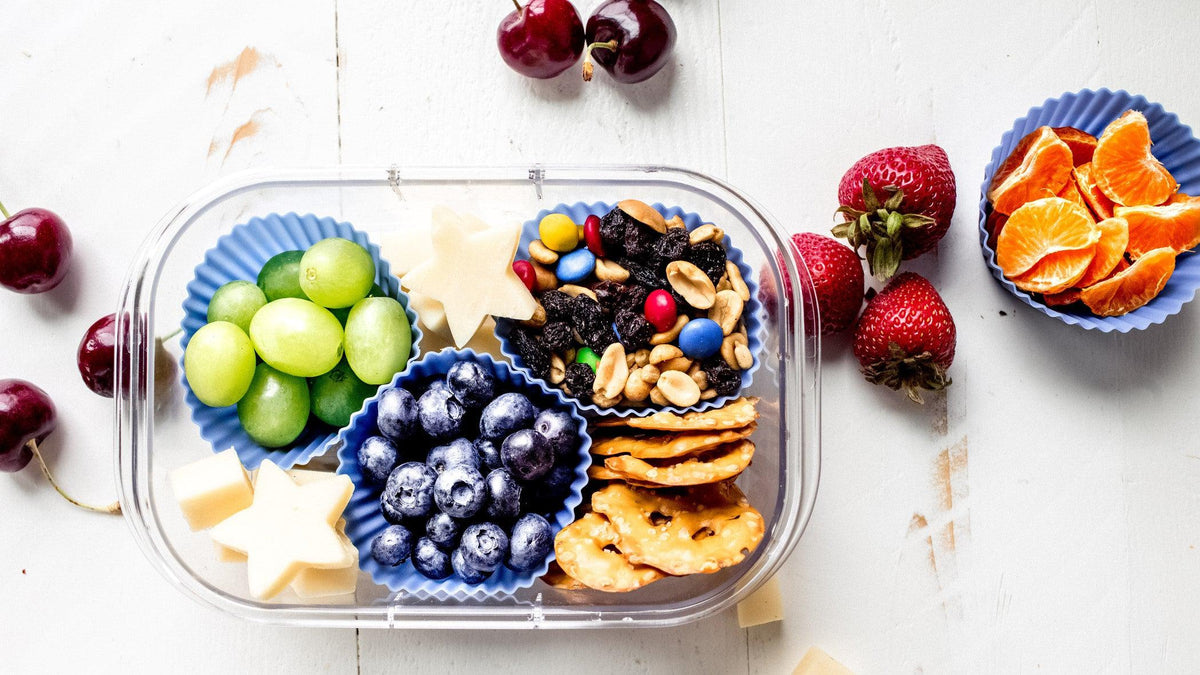 Healthy School Lunches from Home
School is back in session and while breakfast (like these yummy Chocolate Chunk Pancakes with Raspberries) may seem like the main meal parents have control over to start the day, we wanted to spend some time focusing on what you can pack each day for school lunches. As a parent, it gives you more control over what your child eats for lunch and as a kid, there's something so exciting about opening up your lunchbox every day to find out what's inside!
In an effort to make sure your child isn't trading their lunchbox items for cookies and other treats, take a few minutes to think about how you can make lunch healthy AND exciting for kids.
Here are a few tips for making lunches fun:
Make it bite-sized – Kids love bite-sized foods. Try making a roll-up with turkey and cheese and cutting it into 5-6 pieces instead of one big roll-up.
Change it up – Don't pack the same boring old sandwich every day. Try putting the contents in a pita pocket instead or pack something like a leftover quesadilla or a slice of homemade pizza from dinner the night before.
Make a healthier treat – It's always fun to get a treat in your lunchbox. If you rarely include sweets because you aren't a fan of the less healthful, prepackaged options, try making a healthier version of a favorite treat you can feel good about.  Homemade chocolate pudding or granola bars are easy to whip up at home!
Serve it bento style – Kids love options (and most don't want their food to touch anyway!) Bento-style lunches include small amounts of several different things in separate compartments. For younger children especially, this can help keep lunch exciting and less messy.
Add a dip – If you pack veggies like carrots, be sure to include a dip. Try hummus or homemade ranch dip made with Greek-style yogurt.
Follow these tips to get your kids excited about eating a healthy lunch! Or why not have them join you in the kitchen? A great way to inspire and challenge your small cooks is to join the fun, free 'cooking club' hosted by our friends at ChopChop Magazine.
---
These recipes are simple, nutritious and fun to eat:
Classic Grilled Cheese Sandwich
Cabot Cheese Board Member Brianne Izzo of
Cupcakes & Kale Chips
 believes that it's possible to make yummy and healthy lunches that aren't complicated or fussy. That's why she has many people following her on
Facebook
and
Instagram
just to see what's in
The Bug's Lunchbox
. Her approach is all about keeping nutritious staples on hand, and mixing it up everyday. Some of The Bug's favorites are 
Bacon Ranch Quinoa Chicken Salad
 and
Waldorf Fruit Salad
, when he's not just snacking on
Cabot Horseradish Cheddar
.