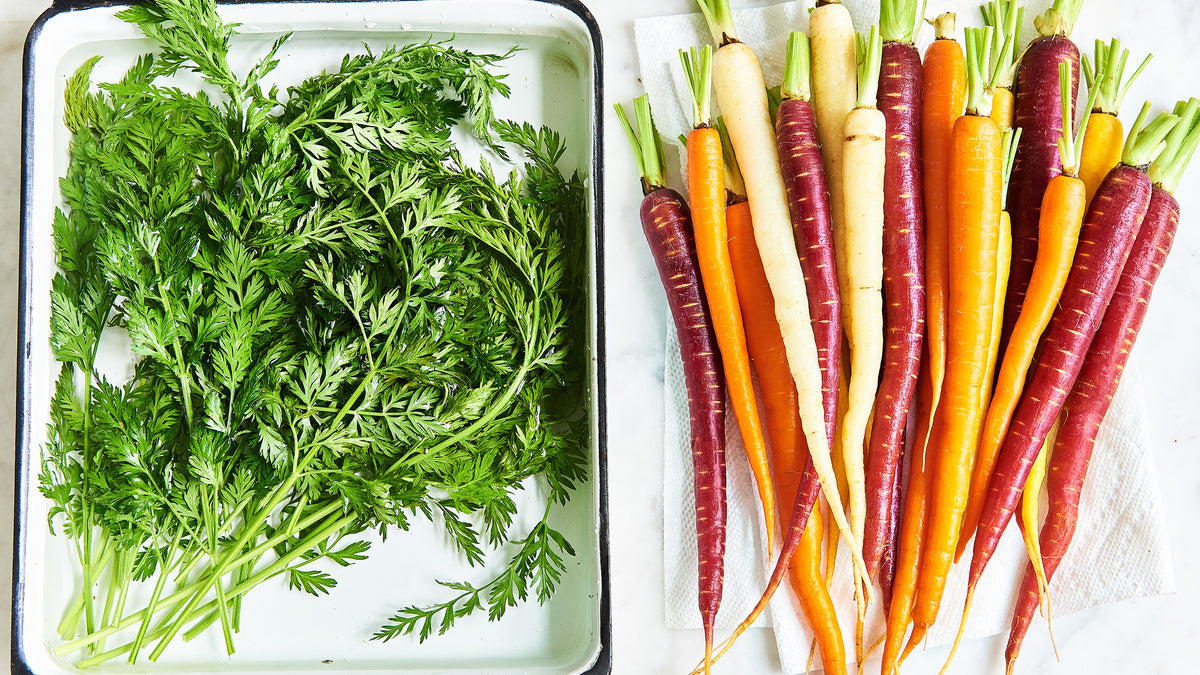 Cooking Root to Stem: Less Wasteful, More Delicious
From recycling to composting to making small changes, it's easy and fun to cut back on the waste we create. Not only that, it's better for our families, our communities, and our planet. When it comes to waste, food is a big culprit, maybe even bigger than we realize. A great way to limit your own family's food waste is to get creative in the kitchen. Start by taking a fresh look at vegetables and learn ways to incorporate the parts we might traditionally throw away, such as roots and stems, and turn them into something delicious.
To get started, we've developed some recipes that incorporate whole vegetables. You'll love the way they taste and enjoy the satisfaction of creating meals that reduce waste but increase joy around your table.
Root to Stem Recipes:
Roasted Carrots with Cheddar Frico and Carrot Top Pesto —Most of us are accustomed to trimming and trashing carrot tops, but you'll be surprised by how fresh and tasty they are blended into a flavorful pesto. 


Yukon Gold Potato & Beet Cheddar Gratin—Ever wonder what to do with the leaves and stems on your beets? We've got you covered. With some help from the World's Best Cheddar, this potato and beet gratin makes them into a luscious, creamy filling for an amazing week night side dish.


Zero Waste Vegetable Risotto—A farmer's market favorite, this fast and easy vegetarian risotto recipe is equally perfect for weeknight meals and special occasions. Since you'll be using the onion peels, garlic skins, thyme stems and asparagus root ends to make the vegetable stock, this has the bonus of being a zero waste meal you'll be happy to add to your regular rotation.
Two-Day Dinners
Another great strategy for reducing waste and adding some ease to your meal prep is to cook a little extra so you get two meals out of one main ingredient. Our fun and easy two-day dinner recipes set you up for a family-friendly meal the first night, and leave yummy leftovers that become a different dish the second night. And of course most casseroles will easily extend to two meals.
In the mood for some succulent roasted veggies? Start by making our hearty Roasted Vegetables Matzo Lasagna, and then turn the extra roasted vegetables into a comforting pot of soup.
Craving pork? Double your delicious by making Smothered Pork Chops the first night, then shredding the leftover chops for these mouthwatering Cheddar Corn Cakes With Pulled Pork the next night.
Not sure what to do with those eggplants from the farmers' market? Make them your weeknight dinner savior. Cook up an Eggplant and Chickpea Stew, then turn the leftover stew into a hearty eggplant and cheddar lasagna by layering the stew with Cabot's award-winning cheddar or mozzarella cheese and lasagna noodles. A different and delicious dish you will love.
Putting those leftovers to delicious use will help them avoid becoming trash, de-stress your meal planning, and add some new go-to recipes to your repertoire.
Curious to learn more? Explore our full guide to composting, which will help you turn your kitchen scraps into fertilizer gold in no time.