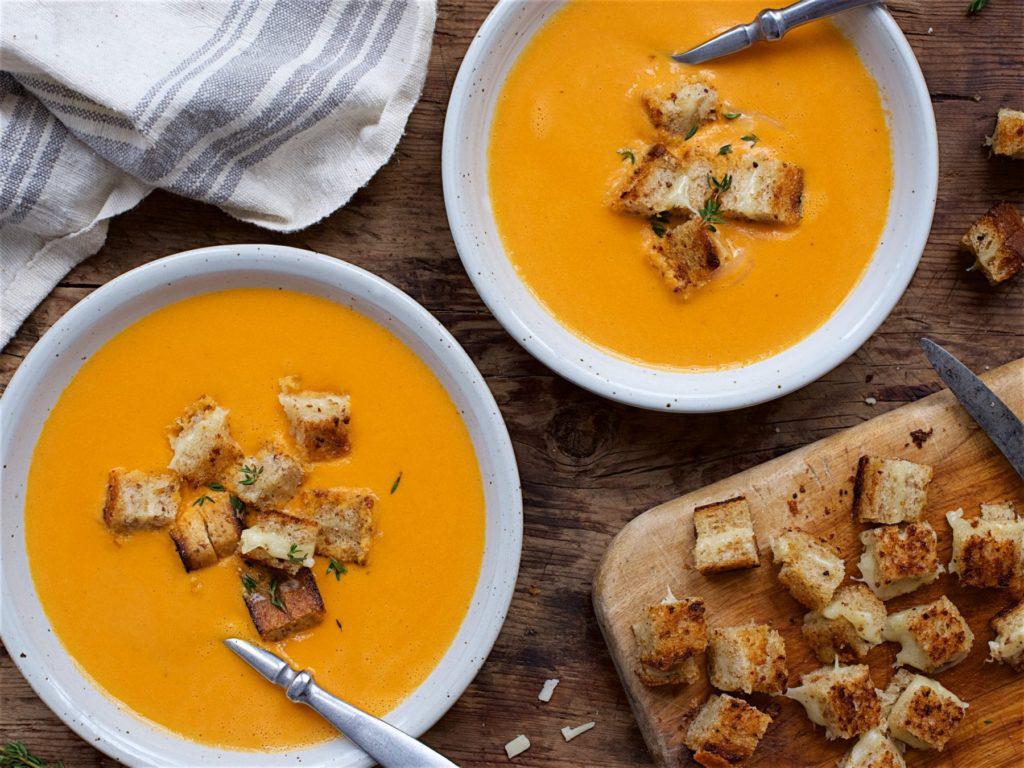 Tomato Cheddar Soup with Grilled Cheese Croutons
Did someone say Grilled Cheese Croutons? Sign us up! Okay, so everybody knows that tomato soup is the world's number one comfort food, but tomato-cheddar soup with grilled cheese croutons? We are talking over the top deliciousness.

Tomato soup is great on its own, but with Cabot Creamery cheddar cheese its improved 100%. Top all that with cheddar cheese croutons and it's enough to give a person a whole new outlook on life, or at the very least, the stamina to make it through to mud season! Follow along and we'll give you tips on how to lighten things up if you're so inclined, while still keeping all that melty and delicious Cabot Cheddar goodness.


Step 1: Make the Soup!

So to begin, we have decided that we'll lighten this soup a bit by using a low sodium vegetable broth and 2% milk rather than half-and-half, that way we can feel really good when we add all of those extra grilled cheese croutons! You can take this a step further and use Cabot Creamery Light Cheddar, the taste is every bit as good as your favorite Cabot Cheddar and the melting quality will be perfect for the soup or the croutons.
Sauté the onion in the olive oil over medium heat until translucent, add the garlic and cook for about 30 seconds or until aromatic, be careful to not brown the garlic. Add the flour and cook for 1-2 minutes, you want to get rid of that raw flour taste.
Remove the pot from the heat and add the tomatoes with their juice, the broth and milk or half-and-half. Add the thyme sprigs and return to the heat and bring to a low boil, lower the temp, cover and simmer for about 15 minutes. While the soup is simmering, grate the Cabot Cheddar cheese of your choice - we're using Cabot Vermont Sharp for the soup and Cabot Vermont Extra Sharp for the croutons.

After simmering, remove the thyme sprigs and stir in the grated cheddar in 3 additions, stirring to melt in between.
Blend the soup in batches in a blender or, if you have an emersion blender you can use that instead. The emersion blender is quick and easy, but might not give you the super silky texture that a blender will. It will be incredible either way. (A note of caution, if you are using a standard blender be VERY careful to not overfill and do vent the lid once you begin to blend and all has settled down. Blending hot soups has resulted in many kitchen catastrophes because the steam creates a build-up of pressure and when you remove the lid it can leap out at you making a great mess and/or causing burns… ouch!)

Return the soup to the pot, season with salt and pepper, and hold on low temp while you make the croutons.
Step 2: Make the Grilled Cheese Croutons
Here is a handy link to the crouton recipe! Grilled Cheese Croutons

Step 3: Dig in!
This one's easy: ladle up, top with those crunchy cheesy croutons and dig in! You'll find this creamy silky smooth tomato soup topped with grilled cheese croutons to be the remedy to all your comfort food needs. Click here for the complete Tomato-Cheddar Soup recipe with all the particulars.