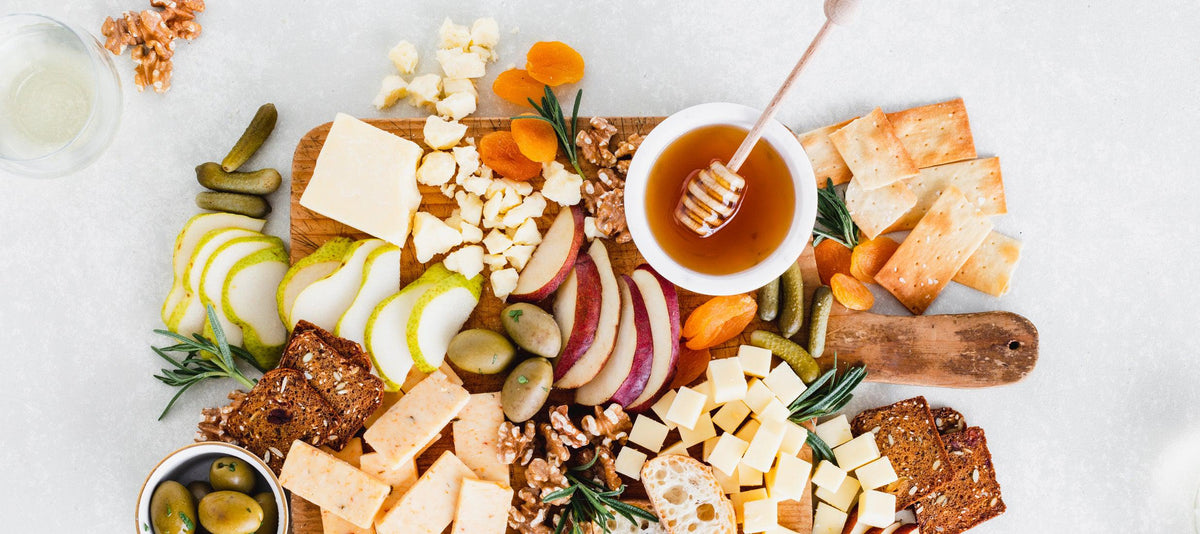 A Lactose-Free Cheeseboard for Game Day
What does a Nutritionist serve to their party guests?  
The key to any successful party is good food. If your guests are well fed, they'll leave happy.  
When planning, it's important to keep in mind the different dietary needs of your guests. Are they lactose intolerant? Gluten free? A vegetarian? 
To take the guesswork out of your prep work, we asked our RD what they serve to their party guests. The answer, a naturally lactose free cheeseboard that's not only beautiful but full of nutrient rich foods.  
What Does Naturally Lactose Free Mean?  
Lactose is a natural sugar found in milk and dairy products that some folks have trouble digesting. Most of the lactose present in milk is in the whey, which is then separated from the curds during the cheesemaking process. The natural aging process then breaks down any remaining lactose that could be leftover. AKA: you get to enjoy lactose-free Cabot Cheddars from a number of our collections!  
How to Get Started!  
First, you'll want to select three or four naturally lactose-free cheeses like our naturally aged cheddar or parmesan. Accompany them with an assortment of pairings to enhance and elevate the flavor of the selected cheeses.  The mix of colors, shapes, and textures provide the "wow" factor, creating a visually interesting board with a seemingly unlimited number of culinary combinations. 
What are the health benefits?  
Cheese pairs well with many foods.  A package of nutrition for good health, cheese is available in a variety of flavors like Seriously Sharp or Pepper Jack and textures.  Hard naturally aged cheeses, provide nutrients for good health.  Dried fruit, like figs, apricots and cherries, are rich in fiber and antioxidants and add a chewy sweetness.  Seasonal produce like slices of apples or pears, strawberries and grapes create a board as nutritious as it is colorful. 
Vegetables reduce the risk for heart disease and protect against certain types of cancers.  Plain or pickled veggies provide a crunch to the board.  Adding vegetables increases fiber and provides important vitamins many people miss at meals.
Nuts are part of a heart healthy diet. The various shapes are great for filling in empty spaces, packing the board to nutrition perfection.  
Honey contains a number of antioxidants, protecting the body from inflammation, and offering other health benefits.  The sticky sweetness is a great pairing for a strong flavored cheese, like blue or sharp cheddar. 
Whole grain breads and crackers can provide fiber.  Selecting options with seeds and spices can add additional flavor to the board, as well as nutrition. Be sure to include a gluten-free option too.  
A well-crafted cheeseboard is a great example of the principles of good nutrition- balance, variety and moderation, with a little something for everyone.