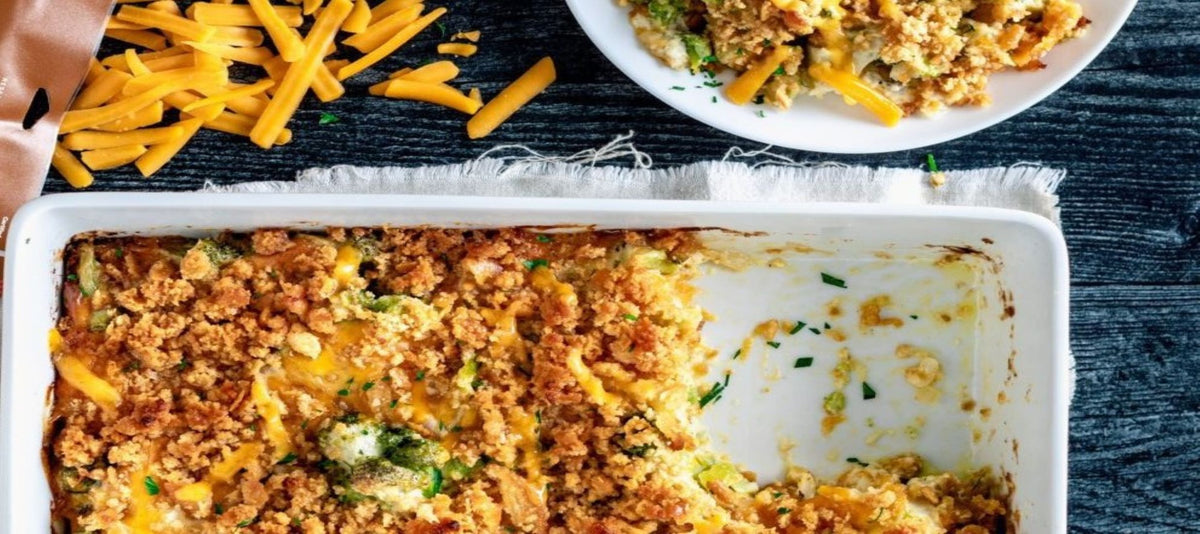 Broccoli & Cheddar
A classic culinary partnership takes center stage as broccoli and The World's Best Cheddar pair up for great soups, casseroles, dips, and other delicious dishes!
Consider the humble broccoli. This modest member of the cruciferous clan, with cousins like Brussels sprouts, cauliflower, kale, and cabbage, has a low glamour factor and is often maligned, even by presidents. Who can forget George H. W. Bush's vehement distain for the vegetable his mother made him eat as a child?
Broccoli, it seems, is the Rodney Dangerfield of veggies. It just doesn't always get the respect it deserves, which is really a shame since it's kind of a superhero when it comes to nutrition.  It's a powerful source of Vitamins C an K and is loaded with fiber, potassium, and folic acid. Broccoli is affordable and can be prepared in so many tasty ways – steamed, roasted, and raw.
One of broccoli's most felicitous preparations happens when it's teamed with Cabot cheddar. Broccoli and cheddar just go together – like peanut butter and jelly, milk and cookies, or bacon and eggs. Their complimentary flavors are just made for each other.
At Cabot, we've put this yummy combo to work over and over again, from appetizers to entrees, and everything in between. Here are some of our favorite ways to enjoy the awesomeness of broccoli and cheddar.
Delicious Dips, Splendid Spreads, and Tasty Tots
Whether you dip raw broccoli into a fresh-tasting dip or spread a broccoli topping on your burger for a delicious change of pace, you'll love these easy, cheesy dips and spreads.
Cheesy Broccoli Tots with Cheddar Onion Sauce
Broccoli Cheddar Greek Yogurt Topping
Broccoli + Cheddar = A Brilliant Idea for Breakfast or Brunch
Adding broccoli and cheddar to egg dishes takes breakfast or brunch to a whole new level of deliciousness. Try these amazing dishes – a perfect way to start your day.
Ham and Broccoli Alpine Omelet
Soups and Sides – Broccoli and Cheddar Make Them Better
Want to add a little something special to your next meal? Try serving one of these great dishes that feature broccoli and Cabot cheddar. They're easy to prepare, filled with wholesome ingredients, and the flavors are out of this world!
Broccoli and Cabot Cheddar Soup
A New Role for Casseroles
You really should try Cabot's delicious broccoli and cheddar casserole recipes. They're perfect for a potluck, just the thing for a holiday gathering, and a real treat for a family meal.
Cheesy Broccoli and Rice Casserole
Pasta Perfection
What better way to make your next pasta dish tastier, healthier, and just more fun than by adding broccoli and cheddar? Here is our favorite recipe from the Cabot kitchen.
Zucchini Broccoli Mac & Cheese