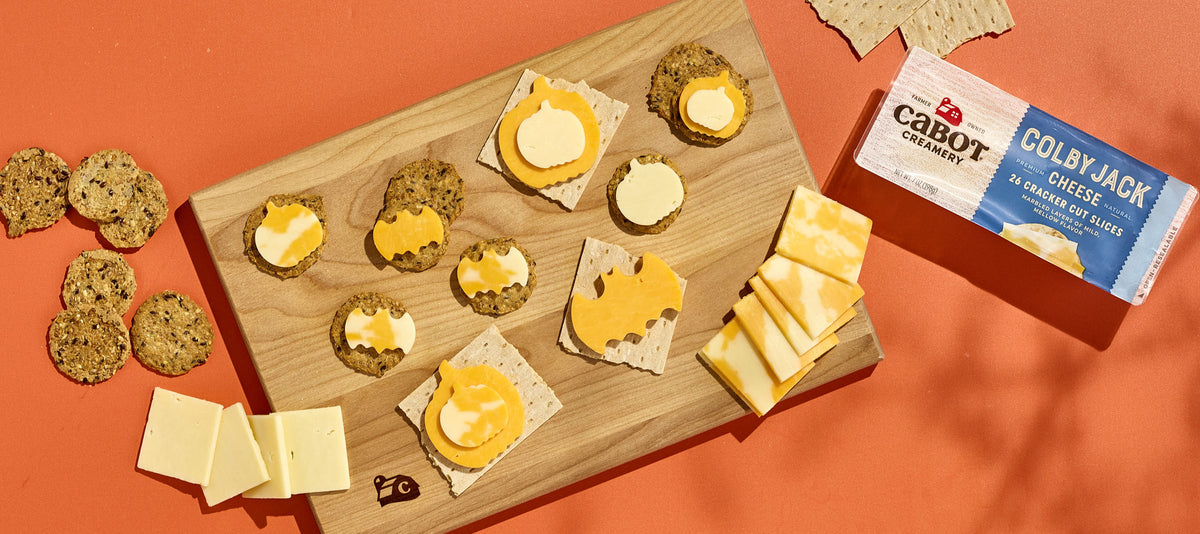 Healthy Halloween Treats
When you think of Halloween food, sweet treats are usually what comes to mind, but that doesn't mean that there's no such thing as healthy Halloween food. While kids can still trick-or-treat with the ultimate goal of filling their bags with as much candy as possible, you can ensure that they--and the rest of your family--still eat well with nutritious and delicious healthy Halloween-themed snacks and appetizers. Did we mention that our 3/4oz snack sticks make a great Halloween handout?
With that in mind, we put together this roundup of spooktacular healthy Halloween snacks for adults and children that will please your family and wow guests at your next gathering. And you don't have to be scared of the prep time either because our list is full of easy, healthy Halloween treats that are simple to make.
1. Cheddar Cheese Webs
If you're looking for healthy, spooky snacks that kids will love, consider these creative crunchies. To make them, bake shredded Cabot Seriously Sharp Cheddar and pretzel sticks to a crisp. Once they come out of the oven, pop on some black olives to create the spiders that call these delicious webs home.
2. Ghost Toast
Even if the Halloween season has your schedule packed, you have time to make this super-easy recipe that kids love. Just grab your favorite bread and pop it in the toaster until golden brown. Spread on a thin layer of Cabot Cream Cheese and use apricot jam to make a mouth. Add two raisins for eyes and serve to your favorite little boos.
3. Jack O'Lantern Grilled Cheese
Everyone loves grilled cheese and with some creative cutting and toppings, you can turn the classic toasted sandwich into a spooky, fun treat that's just right for the season. Slice up our Vermont Sharp Cheddar Cheese Deli Bar and prepare the sandwich like you normally do. Then, follow our simple steps to get it ready for your crew.
Sweet and spicy come together to create a boo-tiful result. You might consider this golden galette filled with tender butternut squash a good-for-you dessert or a new take on healthy Halloween appetizers. Whenever you serve it during your meal, the kick of Cabot Habanero Cheese will awaken your taste buds. Refrigerated pie crust serves as the base, so all you have to do is slice and roast some squash and onion, fill the crust, sprinkle on the cheese and bake until browned.
With the weather getting chillier, Halloween is the perfect time for soup, and this one made with pumpkin, apple and onions will get you in the spirit of the season. Start off by sauteing the ingredients in some Cabot Salted Butter. Then, add spices, coconut milk and stock, and let it simmer. When the soup's ready, top it off with a dollop of Cabot Plain Greek yogurt, crunchy pepitas and Cabot Extra Sharp Cheddar Cheese.
Whether you add it to a buffet of healthy Halloween snacks or serve it as a main course, this festive twist on classic comfort food is sure to be a show-stopper, as it gets served in a baked pumpkin. The macaroni has all the ooey-gooey goodness you'd expect, thanks to our Salted Butter, Vermont Sharp Cheddar Cheese Dairy Bar and Extra Sharp Cheddar Cheese Dairy Bar. Prep is simple, too. While the pumpkin roasts, cook the macaroni and create the sauce on the stove. Whisk in the mustard, Worcestershire and seasonings and then add the grated cheese. Stir it all into the tender macaroni, fill the pumpkin, sprinkle with breadcrumbs and bake.
Looking for another hardy, healthy meal to fill up everyone's bowls before trick-or-treating? Try this delicious dish that combines traditional chili ingredients like diced tomatoes, orange bell pepper, black beans and pintos with pumpkin or butternut squash for a festive touch. After you prep the ingredients and saute the vegetables in our Salted Butter, combine everything in one pot, bring to a boil, and then let it simmer for 30 minutes. The chili can be finished off with your favorite toppings like green onions, freshly shredded cheese and plain Greek yogurt.
Next up on our list of healthy Halloween party snacks is an appetizer that is totally Instagram-ready. Although this delectable cheese ball looks like it takes hours to sculpt, the process for making it is actually really easy. Start by mixing Cabot Cream Cheese, shredded Cabot Seriously Sharp Cheddar Cheese, Cabot Plain Greek Yogurt, minced garlic, Worcestershire sauce, Sriracha sauce and orange food coloring together in a bowl. Roll it into a ball, and then use your thumb and a knife blade to indent the top and make grooves along the sides. Finish it off with a real pumpkin stem and a sprig of cilantro, then serve with your favorite crackers.
When it comes to healthy Halloween treats that are festive and sweet, this take on the classic Swiss roll is destined to be a crowd-pleaser. First, you whip up a cake with spices, brown sugar, flour and pumpkin puree in a jelly roll pan. While it bakes, prepare some Vermont maple-syrup candied pecans and prepare a filling with softened Cabot Cream Cheese and Cabot Unsalted Butter. Spread the finished filling over the cake, sprinkle on the pecans and roll. The whole thing then gets dusted with powdered sugar before slicing.
To whip up a supper or appetizer that will warm up chilly nights during the spooky season, break out your Instant Pot and whip up a batch of this tasty nutritious chili. Start off by sauteing garlic, onion and jalapeno, and then add spices and water, stirring until fragrant. Switch off the pot and stir in diced tomatoes, tomato paste and cubed butternut squash. After pressure cooking for a few minutes, vent, open the pot and stir in kidney and pinto beans. In just three minutes, your chili will be ready to top off with Cabot 1 Year Cheddar Cheese and Plain Greek Yogurt.