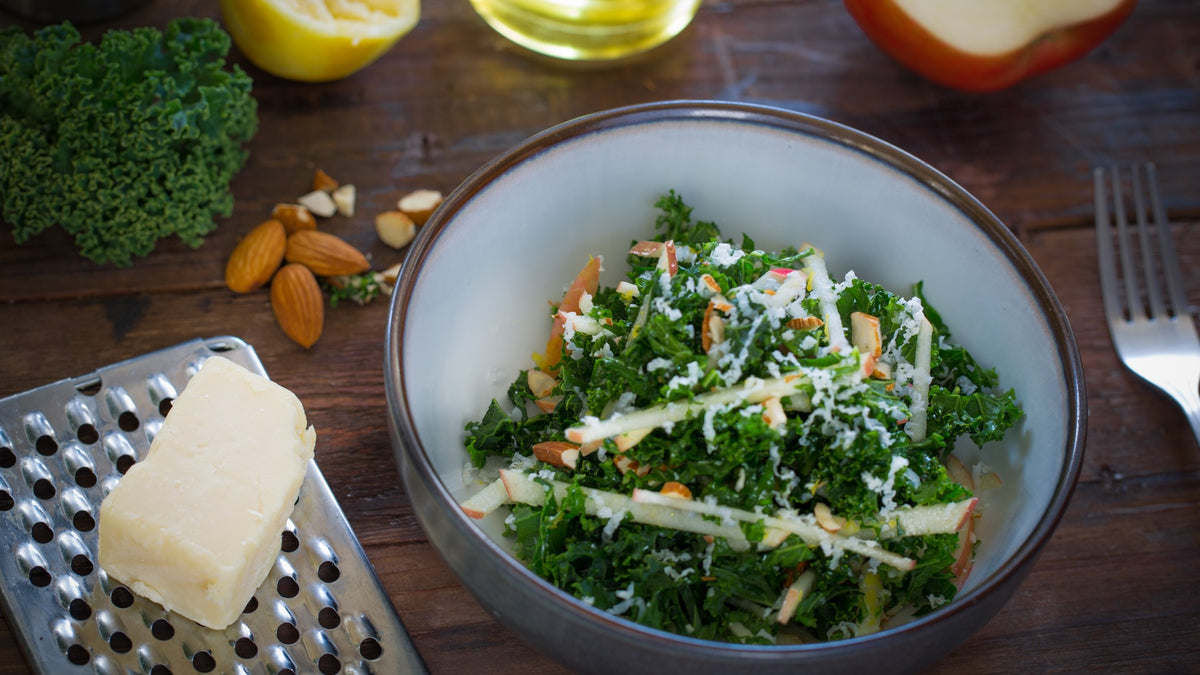 Healthy Side Salads
Today we're talking salads. A salad, by definition, is a dish made with small pieces of food mixed with sauce or dressing. Traditionally, in the United States, salads consist of leafy greens and mixed veggies – but salads can be so much more, and can be served at just about every meal, even dessert! They are great for one person or a crowd. And did you know there is a small agricultural town in Israel that holds the Guinness World Record title for largest salad (weighing over 11 tons)? Needless to say, salads are versatile in every way, and we've compiled four of our favorites to share with you.
Our Black Bean and Veggie Salad with Lime Cinnamon Vinaigrette is a colorful salad filled with delicious and filling beans and veggies. It's even better the second day after the flavors have a chance to meld together.  This salad makes a great side dish for taco night, or a great lunch served with tortilla chips. Yum!
Here's a tasty, hearty salad made with kale. You may not think of eating kale raw, but it works and it's delicious! Shredding the kale finely helps to maximize flavor and texture. You can also add the dressing to the kale, and "scrunch" it with the dressing prior to adding the remaining ingredients. This will also help to soften the kale and infuse the flavorful dressing into the salad. Some crispy apple slices, sweet died cranberries, toasted pecans, and shredded cheddar top off this delicious dish. Here are a few more recipes if you just can't get enough of those summer harvest flavors! Speaking of late summer vegetables and kale, check out this very cool Kale Stripper Tool that our friends and fellow BCorporation, Gardeners Supply carry. #love
This next salad features a creamy dressing made lighter with our 2% Plain Greek-Style Yogurt. Fresh cucumbers and garden herbs are a tasty combo with chickpeas and bulgur, making for a hearty main course salad - Bulgur, Cucumber and Chickpea.  Leftovers provide a great lunch or side for tomorrow's dinner.
Check out these and many more tasty salad recipes on our website – or  get the recipe for our favorite seasonal salad of all time.