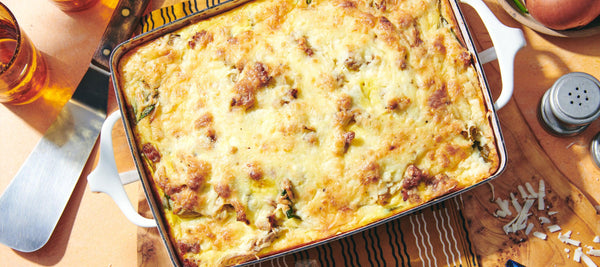 Best Breakfast for Dinner Recipes
As the saying goes, breakfast is the most important meal of the day. So why should we limit ourselves to eating it once a day? Breakfast for dinner, or "brinner" if you will, is a fun and simple way to...
Breakfast & Brunch Recipes
It's very important to start the day off right by eating a breakfast that will provide the energy you need to get through your day. That's why we've provided a selection of our best breakfast brunch recipes that will keep you going all day long.
Looking for savory breakfast brunch recipes that work just as well for every day breakfasts as they do for a special occasion brunch? Try this Baked Cheddar Frittata Recipe, this Cheesy Potato Sausage Casserole or these Savory Bread Pudding with Cheddar.
And, in our book, quiche recipes are always welcome. Fellow quiche lovers will have to try this Cheddar, Tomato, Leek Quiche with Sour Cream Bacon Crust - yumm! Or this Crustless Spinach Quiche, or this Canadian Bacon and Asparagus Quiche. For sweet breakfast or brunch recipes that everyone is sure to love, you can't go wrong with these Quick-Maple Cinnamon Rolls, this Cappuccino Kugel with Greek Yogurt or this Chocolate-Stuffed French Toast.
Whether you're looking to start your day off with a fabulous breakfast or are looking for brunch recipes you can count on to impress a crowd, you'll find everything you need here. Scroll down, search by main ingredient or another category, choose your favorites and share the deliciousness with friends and family!