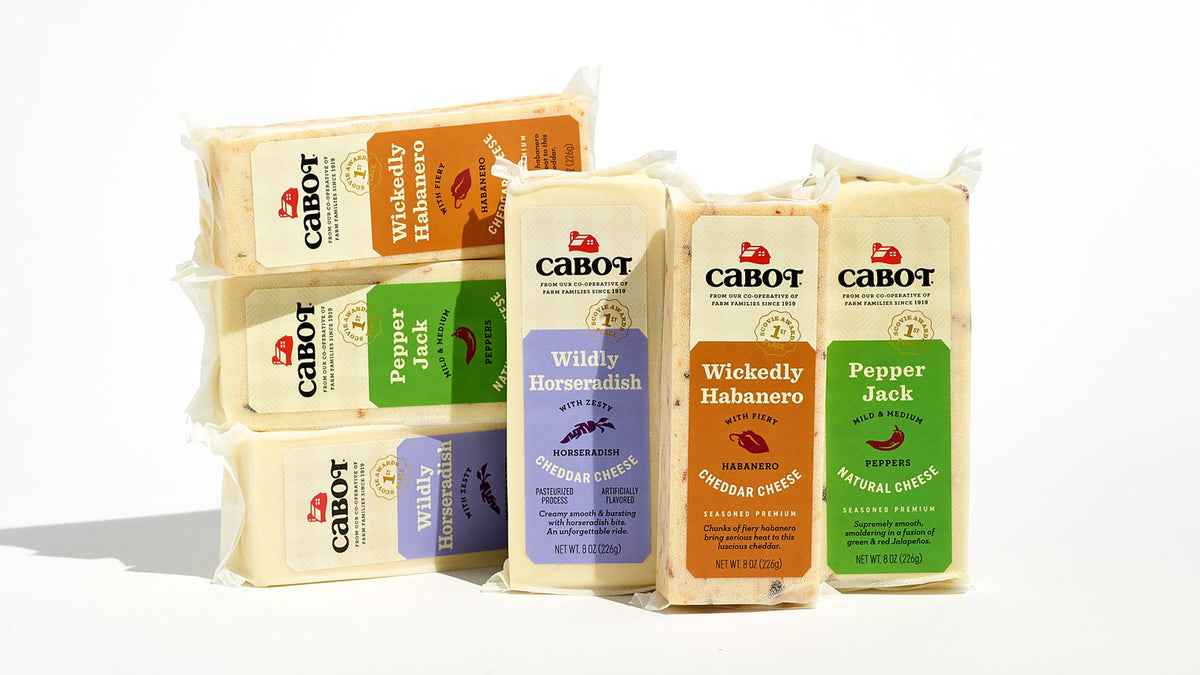 The Tastiest Flavored Cheese Pairing Guide
If you love cheese as we do, you probably don't need anyone to tell you how to please your tastebuds. But, like wine connoisseurs, cheese connoisseurs have many more resources (and cheeses) at their fingertips to experiment with. Because of this knowledge and access to many ingredients, they can share tips about flavorful cheese pairings for you to test at home.
One of these tips includes trying out the fabulous Cabot Creamery flavored cheeses. Here, we explore recipe pairings with these flavored cheeses for an all-out comfort food individual experience or when entertaining at home.
Inspired Cabot Creamery Flavored Cheese Pairing Ideas
A magical thing about flavored cheeses that you may not yet have realized is that they're incredibly versatile. So, if you want to challenge your cheese-buff tastebuds, try these pairings at breakfast, lunch, and supper (or dinner).
Pepper Jack Cheese
Moderately hot and super smooth, our farmers' Pepper Jack Cheese adds a kick to even the tamest cracker!
Wine: Sauvignon Blanc, Riesling, or a fruity Zinfandel
Meats: Salami, chorizo, prosciutto, or grilled chicken
Fruits: Pineapple, mango, or green apples
Recipes
Cheddar & Chorizo Grilled Cheese Recipe with Cabot Pepper Jack
Indulge in a decadent yet simple breakfast of spicy chorizo sausage with melted Cabot Pepper Jack Cheese on top of a slick of thick, crispy bread. This meal is an ideal way to start your day, snack between meals, or end the day. Consider adding some crisp apple juice to cleanse your palate if prepping this recipe for breakfast.
Pepper Jack & Spinach Stuffed Portobello Mushrooms
This recipe is quick, tasty, and healthy. Stuff your favorite portobellos with spinach, add some seasoning and Pepper Jack Cheese, and you'll be left wanting more. Enjoy at any time of the day with your favorite beverage or cured meats.
Grilled Cheese with Smashed Avocado and Roasted Red Peppers
Try a breakfast snack of toasted bread, red peppers, or avocado with a delicious fusion of Pepper Jack Cheese. It's quick and easy to make and enjoy with friends and family.
Horseradish Cheddar
Supremely creamy, with huge horseradish flavor, this is one delicious cheese! Our Horseradish Cheddar Cheese adds unforgettable flavor to the ordinary sandwich
Wine: Cabernet Sauvignon, Malbec, or Chardonnay
Meats: Roast beef, smoked turkey, or pastrami
Fruits: Pears, red grapes, or dried apricots
Recipes
Horseradish and Hummus Roast Beef Wraps
Make the wraps from scratch or buy them ready made. Then stuff them full of the goodness of roast beef or turkey, hummus, arugula and Horseradish Cheddar for a surprisingly delightful taste adventure.
Potato Crisps with Horseradish Cheddar & Bacon
Simple and delicious. All I can say is "Yum", and you will likely do the same if you try it too.
New England Potato Salad with Cabot Horseradish Cheddar
Potatoes go well with just about everything but this potato salad with Horseradish Cheddar takes the flavor experience to a level that is sublime.
Habanero Cheddar
Our fieriest south-of-the-border cheddar yet! Attention-grabbing Habanero Cheddar Cheese offers a ride-'em cowboy, yee-haw, blazing taste experience.
Wine: Gewürztraminer, Viognier, or a fruity Merlot
Meats: Chorizo, andouille sausage, or smoked ham
Fruits: Melon, kiwi, or raspberries
Recipes
Think refried beans, tortillas, ground beef, olives, Habanero Cheddar and more, and you're ready to rock an air fried pizza with your favorite wine. Hungry, anyone?
Wickedly Habanero Cheddar BLT Bites
All you need for a quick snack are baguettes, bacon, tomatoes, lettuce, mayo, and some Habanero Cheddar. Check this recipe for a healthy snack to satisfy your hunger for good food.
People have been thriving on and experimenting with cheese for centuries because its tasty and nutritious. So, if you want a veggie pairing with our favorite Habanero Cheddar, try this butternut squash galette for a satisfying meal.
Garlic Herb Cheddar
Enjoy the sweet taste of summer with every bite of our farmers' Garlic Herb Cheddar Cheese, a smooth and creamy fan favorite that blends mild cheddar and tangy dill.
Wine: Pinot Grigio, Sauvignon Blanc, or a light red like Pinot Noir
Meats: Prosciutto, capocollo, or grilled chicken
Fruits: Green grapes, blackberries, or figs
Recipes
Spinach Stuffed Chicken Breast
Garlic Herb Cheddar pairs well with many foods but is especially good with chicken. This recipe will transport you into a different dimension, so try it as soon as possible.
Not everyone loves garlic but if you do, then this focaccia with our Garlic Herb Cheddar is simple, yet amazingly delicious.
Garlic Herb Cheddar & Cucumber Salmon Bites
Salmon is a delicate flavor, making it tricky to pair with something as powerful as garlic. Yet, these bites are a match made in heaven. Spoil yourself with a flavorful journey that is not to be missed.
Hot Buffalo Wing Cheddar
Like Buffalo wings? Then you're sure to love the blistering bite of Cabot Hot Buffalo Wing Cheddar Cheese, which brings crave worthy heat and mouthwatering spice to your favorite cheddar.
Wine: Riesling, Rosé, or a light-bodied red like Gamay
Meats: Grilled chicken, salami, or pepperoni
Fruits: Celery sticks, carrot sticks, or apple slices
Recipes
You get mild to sharp and seriously sharp cheddar cheese, so try the extra sharp hot buffalo wing cheddar with some fried mac to elevate your eating experience to the expert level.
Dare to serve this hot, spicy dip with extra sharp cheddar and creamy cheese with crackers, toast, or as a creamy filler with hot dogs at a local event. You'll be the hot hit of the day if you do.
If you're dreaming of treating yourself to a cocktail hour at the end of the day, these chicken strips with a milder cheddar should hit the mark. They're easy to make and delicious as a snack or meal with your favorite wine pairing.
Everything Bagel Cheddar
With the classic flavors of an everything bagel, our Hand-Rubbed Everything Bagel Cheddar tastes like it's fresh from your favorite bakery!
Wine: Chardonnay, Pinot Noir, or a sparkling wine like Prosecco
Meats: Lox, smoked turkey, or pastrami
Fruits: Red grapes, blueberries, or dried cranberries
Recipe
Cheddar Stuffed Everything Bagel Dinner Rolls
Take some Cabot unsalted butter, Seriously Sharp Cheddar (or our Everything Bagel Cheddar for even more flavor), Everything Bagel seasoning, eggs, flour for fresh bread rolls, and a few other ingredients. Mix them with a lot of love, and you'll have a lot of flavor with this dinner accompaniment.
Tuscan Cheddar
You can taste the sunny hills of Tuscany in every luscious, fragrant bite of our farmers' Old World Tuscan Cheddar Cheese. Classic exotic flavors like onion, fennel, and sweet bell pepper mingle with the classic sharp bite of Cabot cheddar for an absolutely unforgettable flavor experience. 
Wine: Sangiovese, Montepulciano, or Vermentino
Meats: Prosciutto, soppressata, or Italian sausage
Fruits: Sundried tomatoes, olives, or fresh figs
Recipe
If you've never been a cauliflower fan, this recipe is guaranteed to change your mind. The clever blend of toppings, seasonings, and cheeses, including Parmesan and Tuscan Cheddar, will turn this recipe into a regular on your meal planning agenda – it's really that good!
Finale
As you can see, many ideas exist for pairing these flavored cheeses with complementary meats, fruits, carbs, and wines. It just depends on the cheese-pairing meal of the day you're experimenting with. Whichever it is, the choices are as vast as a smorgasbord of flavors.
There also aren't any rules with cheese pairings. Nevertheless, we've provided some ideas to kickstart your creativity, but the rest is up to you. Be bold, be daring, and don't be scared to try new cheese pairings you've never heard of or seen before. It will be like going on an extended flavor cruise, with a discovery to look forward to every day.
FAQs
Q: What types of meats are best for cheese pairing?
A: A variety of cured meats like salami, prosciutto, and soppressata complement different flavored cheeses, adding a savory balance to your cheese board.
Q: How do I know which wine pairs well with a specific cheese?
A: As a general rule, bold cheeses pair well with bold wines, while mild cheeses pair better with lighter wines. Consider the flavors of the cheese and look for wines that complement or contrast those flavors.
Q: Can I pair flavored cheeses with fruits or other accompaniments?
A: Absolutely! Fresh or dried fruits, nuts, crackers, and other accompaniments can enhance the flavors of the cheese and create a well-rounded pairing experience.