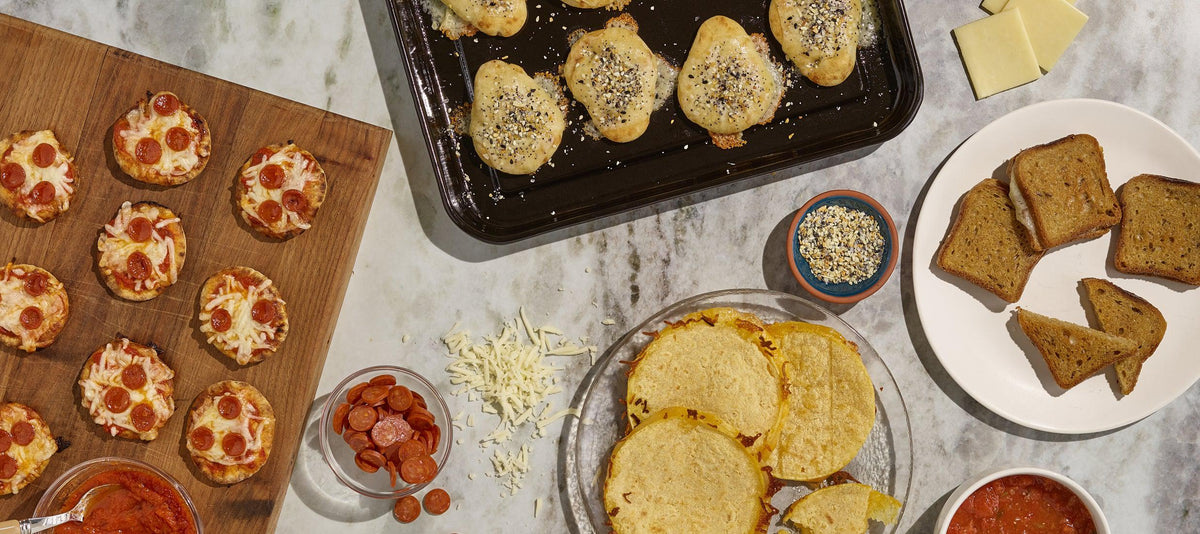 Mini Cheesy Snacks
Who says simple can't be delicious? Sometimes you just need to stick to the basics, and here at Cabot that means one thing: cheese. From snacking to entertaining, our mini cheesy snack ideas will have you saying, "yes, please-y!" With just a few simple ingredients and your favorite Cabot cheese, you can transform any snack into a masterpiece. So go ahead, indulge in some cheesy goodness and get inspired by these mini snack ideas. 
Mini Cheesy Pizzas
Pizza Bagels are a well-loved treat and oh-so-simple, but how about a new fun twist on the ol' classic? These pizza bites use mini pitas for the crust, then top with a little pizza sauce, mini pepperonis, and as much Cabot Mozzarella you can load on top. 
Mini Grilled Cheese
These mini grilled cheese bites are the perfect bite-sized treat. Made with Cabot Seriously Sharp Cracker Cuts and mini bread, they're quick to prepare and sure to satisfy your cravings. Give them a try for a tasty snack that couldn't be easier to make.  
Mini Quesadillas
Cabot 4 Cheese Mexican Shredded Cheese is a blend of Monterey Jack, Queso Quesadilla, Asadero, and Cheddar cheeses, providing the perfect creamy complement to any dish, and these mini quesadillas are no exception! So whether you're looking for a quick snack or an easy appetizer for your next party, try these mini quesadillas. And you know the drill—feel free to get creative here by adding some toppings, dipping in salsa or hot sauce, and maybe some guac. Okay yeah, definitely guac. 
Mini Cheesy Naan Bites
Naan bread isn't just for Indian food. You can use this versatile bread in many fun ways, like a crust for flatbread-style pizza or a sandwich or panini. The possibilities are endless, but these mini cheesy naan bites are an easy-to-enjoy snack. For these simple bites, use mini naan or cut-up naan, top with Cabot Vermont Sharp Cracker Cuts, then sprinkle with everything bagel seasoning for a burst of flavor. So simple and so delicious.
Mini cheesy snacks are such a fun treat for both kids and the young at heart. So if these ideas have your mouth watering for more, check out some more of our favorite mini recipes. From savory Mini Patty Melts with Caramelized Onion Confit and Mini parmesan chicken calzones to something a little sweeter like Mini Apple Tarts, we've thought of it all. Because when it's bite-sized, it means you can keep coming back for more, right?