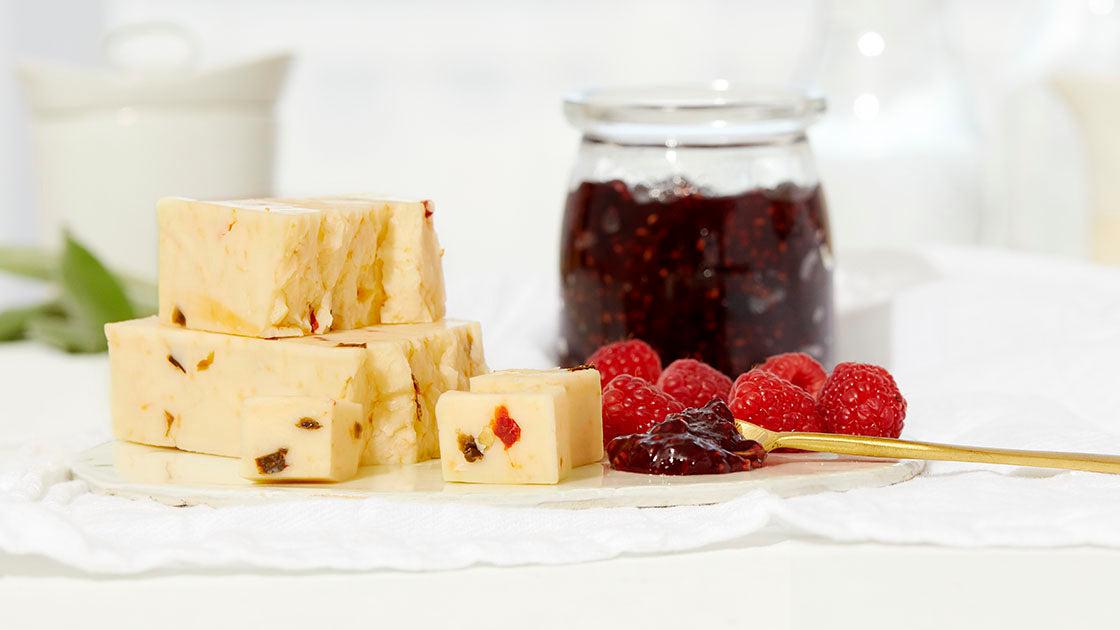 How To: Making Homemade Jam
---
Tips for the best homemade jam:
Balance sugar with fruit. Jam makers suggest no more than 1 cup of sugar for each cup of fruit, or you won't be able to taste the fruit. Marisa McClellan's (from Food in Jars) favorite ratio is two parts fruit to one-part sugar.
Get creative. You can combine almost anything together, though if you are not an experienced jam-maker, try to find an example of the combination from a reputable recipe source to make sure you're maintaining a safe level of acidity.
Don't waste the foam! If you're skimming the foam as you simmer your jam, scrape it off and eat it. It's delicious! (Some people add a little butter to the jam as it cooks, which will keep it from foaming.)
Click here for more expert advice and recipes from Marisa McClellan from Food in Jars.
---
Best Blueberry Jam Ever
Courtesy of Marisa McClellan, "Food in Jars" (Running Press, 2011)
Makes 3 pints, or 6, 1/2 pints
6 cups smashed blueberries (from about 3 quarts of whole berries), picked over for stems
4 cups sugar
Zest and juice of 1 lemon
2 teaspoons cinnamon
1/2 teaspoon freshly grated nutmeg
2 (3-ounce) packets liquid pectin
Prepare a small water bath canning pot and boil jars. (See more specific instructions at Food in Jars if needed.) Place the lids in a small saucepan, cover them with water and simmer over very low heat.
Combine the smashed blueberries and sugar in a low, wide, non-reactive skillet.
Place the pan on the stove over high heat and bring the fruit to a boil. Add the lemon zest, juice, cinnamon and nutmeg.
Cook, stirring regularly for 15 to 20 minutes, until the jam is shiny and thickened. Add the pectin and return to a rolling boil for a full 5 minutes.
Funnel the jam into the prepared jars. Wipe the rims, apply the lids and rings, and process in a boiling water bath canner for 10 minutes.
When the time is up, remove the jars and set them on a folded kitchen towel to cool. When the jars have cooled enough that you can comfortably handle them, check the seals. Sealed jars can be stored at room temperature for up to a year. Any unsealed jars should be refrigerated and used promptly.
---
This recipe is great as a sandwich condiment, slathered on burgers or served on a cheese plate with aged cheddar!
Orange Tomato and Smoked Paprika Jam
Adapted slightly from "Preserving by the Pint" (Running Press, 2014) by Marisa McClellan of foodinjars.com.

Makes 2 to 3 half-pint jars (depending on juiciness of cherry tomatoes)
About 2 pounds orange cherry tomatoes, halved
1¼ cups granulated sugar
¼ cup bottled lemon juice (Note: important to use bottled so acidity is assured.)
2 tablespoons cider vinegar
1 1/2 teaspoons finely milled sea salt
1 to 1½ teaspoons red chili flakes, to taste
1 teaspoon grated fresh ginger
1 teaspoon smoked paprika
¼ teaspoon cayenne pepper
Combine the tomatoes, sugar, lemon juice, vinegar, salt, chili flakes, ginger, paprika, and cayenne in a large, nonreactive pot. Bring to a boil and then lower the temperature to a simmer.
Stirring regularly, gently boil the jam until it reduces to a sticky, jammy mess. Boiled at a fairly rapid pace, it should take about 45 minutes of cooking.
When the jam is nearly done, prepare a boiling water bath and 3 half-pint jars. Place 3 lids in a small saucepan of water and bring to a gentle simmer.
When the jam has cooked down sufficiently, remove from the heat and fill the jars, leaving 1/2 inch/12 mm of headspace. Wipe the rims, apply the lids and rings, and process in a boiling water bath for 15 minutes.
---
We love pairing our cheeses with all kinds of jams and other spreads! Check out our favorite pairings here. Looking for recipes that use Jam? We've got you covered:
Pepper Jack and Pepper Jelly Bites
Grilled Cheese with Smoky Tomato Jam

---