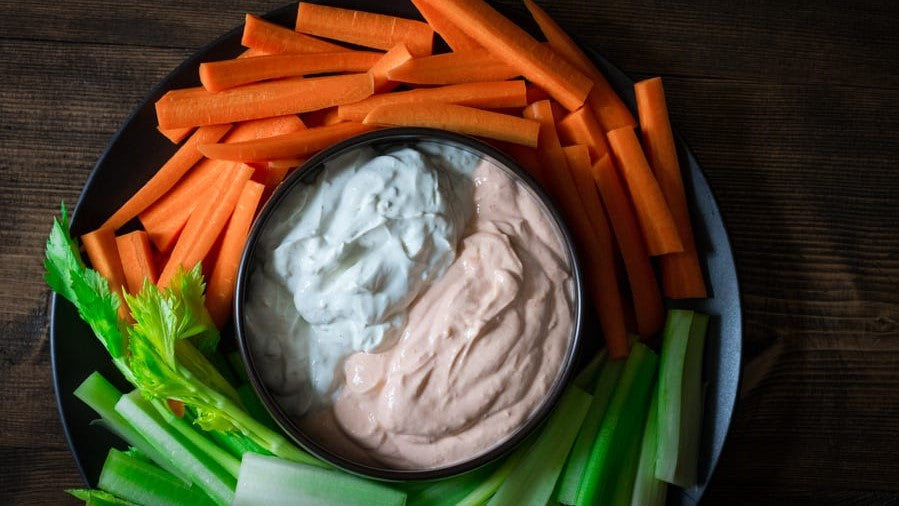 Fun Summertime Dip Recipes
"When I dip, you dip, we dip!" Taking a dip in the summertime usually means in the pool, but here at Cabot that also means creating delectable recipes for fruit, veggies, crackers and more to take a dip in. Perfect for summer barbecues or picnics, these summertime dip recipes will have you dipping in no time.
Check out our California Cobb Dip – chock full of avocados, Romaine lettuce, cheddar and more – this dip can be made ahead and enjoyed with tortilla chips. Top it off with a dollop of Greek-style yogurt if you like, too.
This next recipe provides a lighter version of a traditional buffalo dip. This Artichoke and White Bean Buffalo Dip is delicious served with fresh veggies such as carrots, radishes or celery. Using our Greek-style yogurt in place of cream cheese also lighten things up a bit.
Here's another satisfying summer dip. This is two dips swirled together – one spicy and one blue cheesy. Featuring our Greek-style yogurt and spicy Sriracha sauce, this dip can be made up to 8 hours in advance. Perfect for your next picnic without all the hassle of buffalo wings (plus, at only 28 calories per serving go ahead and have seconds).
This Southwestern Cheese Dip keeps things spicy with our creamy Pepper Jack cheese. Simply stir in some corn and black beans to the cream cheese salsa mixture, bake and serve with crackers or fresh veggies. This dip can also be served cold.
A finally, a refreshing dip featuring cool mint and hot Harissa. Harissa is a spicy paste hailing from North Africa and it adds a fiery kick to this Harissa and Mint Greek Yogurt Dip. Grab some fresh mint from the garden or your local farmers market and add it to our Greek-style yogurt and a tablespoon or two of Harissa paste. This dip is absolutely delicious with lamb meatballs, potato chips, or fresh garden veggies.
So enjoy your dips this summer – whether in the pool, or poolside with these delectable recipes from Cabot!