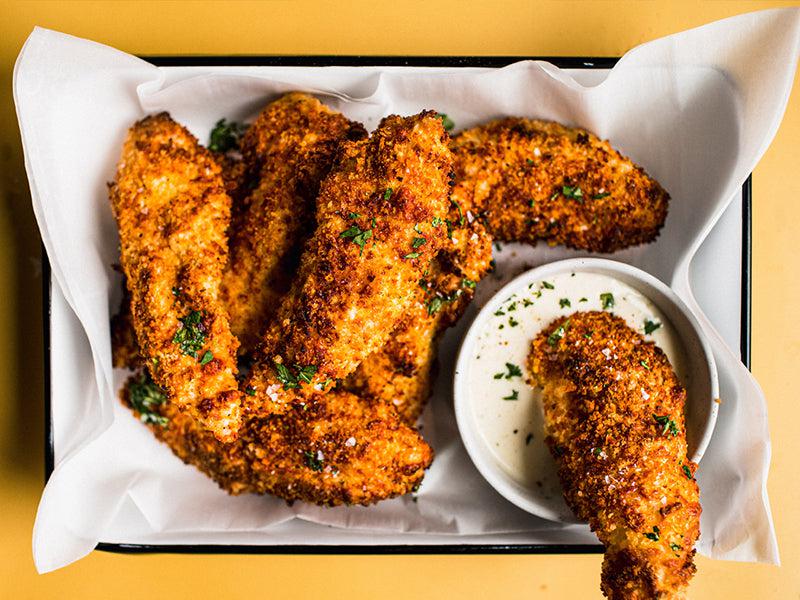 Healthier Air Fryer Recipes
Around the Cabot Health Team, we take health pretty seriously. But let's be honest — baking a potato and chicken breast is never REALLY a substitute for fried chicken and french fries, is it?
And sure, we think that "all things in moderation" is a suitable enough way to approach enjoying fried foods here and there. But once we discovered the magic of the air fryer, we realized there's no need to push favorite fried foods to the back burner!
If at this point you're saying to yourself, "Do I really need ANOTHER kitchen appliance," and we hear ya. Our response: If you want the can't-stop-eating taste of crispy deep fried foods without all the deep frying, then the simple answer is YES!
…or maybe you already have an air fryer and simply need some new inspiration. Either way, we've gotcha covered:
Air Fryer Chicken Tenders with Cheddar Cheese — Crave-able, crunchy and cheesy, these chicken tenders are sure to become a game day staple served up with a side of ranch or blue cheese dressing.

Air Fryer Cheese Sticks — Served with marinara sauce, these cheese sticks will become a permanent replacement for traditional mozzarella sticks in your family. We lightened them up considerably by not only "frying" them in the air fryer, but also by using Cabot's Lite Cheddar.
Air Fryer Turkey Sliders
— Get your air fryer out for these super-quick and easy turkey sliders with melty Cabot cheddar. They are perfect for game day snacks, or for a fun family entree.
Air Fryer Stuffed Poppers — Filled with Cabot Cream Cheese, spices, bacon and Cabot Cheddar, these are the perfect upgrade from jalapeño poppers!
Air Fryer Stromboli — Pre-made pizza dough makes quick work of these spicy pepperoni strombolis. Using the air fryer, rather than the oven, ensures a crispy crust outside and warm, melty center on the inside.
Air Fryer Cheddar Biscuits — Okay, okay. We know you don't normally "deep fry" biscuits, but the beauty in the air fryer here is how quickly it heats up and how perfectly it makes this pan of cheddar biscuits.
Air Fryer Twice Baked Potatoes by Annemarie Rossi — If a loaded potato skin had an older, richer cousin it would be the twice baked potato. This comfort food side dish by food blogger and friend of Cabot, Annemarie of Real Food Real Deals is a crowd pleaser!
Air Fryer Salmon Patties by Jodi Danen — If you've ever deep fried fish, you know it can be a messy job. Not so with the air fryer! These salmon patties with a Greek yogurt dipping sauce by Jodi at Create Kids Club are the perfect kid-friendly way to get your kids eating more fish.
Air Fryer Hot Wings — If you love this game night classic, these crispy and delicious wings are for you! The air fryer keeps the wings crunchy on the outside, and perfectly juicy on the inside. PLUS our Greek yogurt makes a perfectly simple dip to cool off these hot wings.

Air Fryer Cheddar Meatballs — A great recipe for anytime of year, but especially the warmer months when you want the comfort of spaghetti and meatballs – without turning on the oven! These meatballs come together quickly, and while they are in the air fryer, you can cook the pasta, and have dinner ready in just about 30 min!
If you haven't invested in an air fryer, don't worry! We've got plenty of recipes for you too.