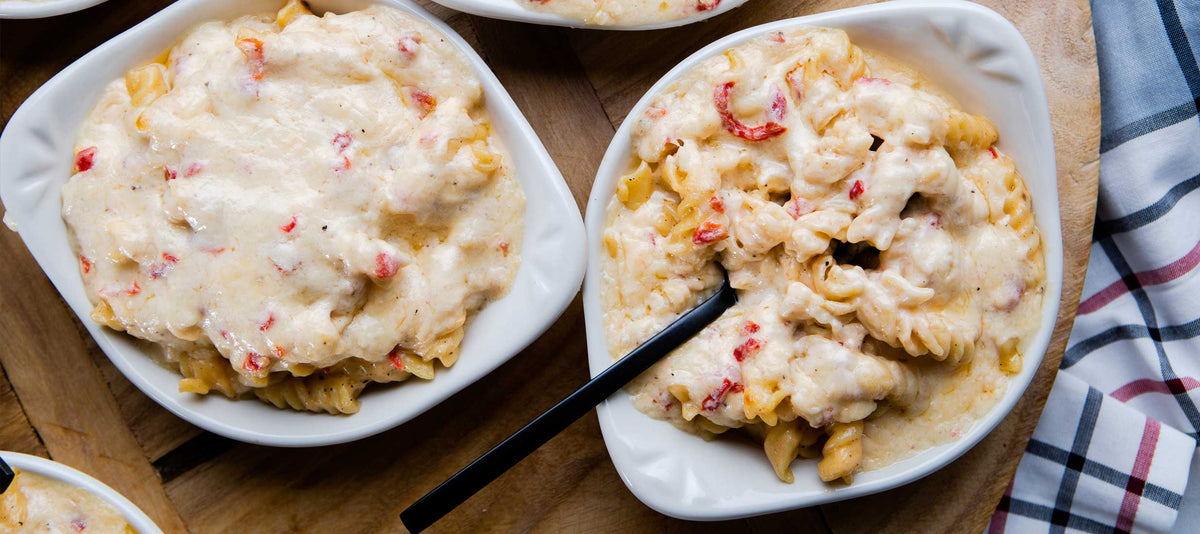 Southern Staple: Top Pimento Cheese Recipes
Life can be hectic, and you deserve to treat yourself to something special every now and then. Today is the perfect day to indulge in some delicious pimento cheese recipes featuring Cabot Cheese, a favorite ingredient for countless cheese lovers. It's time to reward yourself with these mouthwatering pimento cheese creations!
What Is Pimento Cheese?
Pimento cheese is a flavorful, creamy spread that fuses shredded cheese with chopped pimentos and mayonnaise. It's then infused with various seasonings, such as salt, pepper, and garlic or onion powder. It has a rich history rooted in the South and is believed to have originated in the early 20th century, with its popularity spreading throughout the region.
Originally, pimento cheese was made using freshly grated Cheddar cheese, mayonnaise, and pimentos. Over time, variations of the recipe emerged, incorporating additional ingredients such as cream cheese, spices, and even pickles.
This Southern American classic is often served as a dip or spread. Alternatively, it can be used as a filling in sandwiches, stuffed vegetables, and mac and cheese. The tangy, mildly spicy flavor of pimentos pairs well with the sharpness of cheddar, making pimento cheese a versatile and popular addition to many culinary creations.
Sound delicious? We think so, too! To find a unique pimento cheese creation, start with our delectable base recipe in the next section.
Essential Ingredients for Homemade Pimento Cheese
To make the best homemade pimento cheese, you'll need a few key ingredients:
Shredded Cheese: The Foundation of Flavor
The cheese is the star of the show when it comes to pimento cheese. Opt for a high-quality Cheddar cheese, preferably sharp or extra-sharp. It's best to shred the cheese yourself from a fresh block, as pre-shredded cheese can be dry and affect the texture of the spread.
The Creamy Binders: Mayonnaise and Cream Cheese
Mayonnaise and cream cheese are essential for creating a creamy and spreadable consistency. Cream cheese adds an extra level of richness to the pimento cheese.
Pimentos: The Sweet and Tangy Peppers
Pimentos are the signature ingredient in pimento cheese. These small, sweet, and tangy peppers are typically found jarred or canned. Opt for diced pimentos for easy incorporation into the spread.
Flavor Enhancers: Spices, Onions, and More
To elevate the flavor of your pimento cheese, you can add various spices and seasonings. Garlic powder, onion powder, cayenne pepper, and Worcestershire sauce are popular choices. Some recipes even incorporate minced onions or jalapeños for added depth and heat.
What's the Best Cracker for Pimento Cheese
The best cracker for pimento cheese is a water cracker or a rustic whole wheat flatbread dipped in herbs and flaky salt. Additionally, buttery Club crackers and pita chips are also good options due to their neutral flavors. Saltines, despite lacking a cardboard-like taste, can be used to flavor the pimento cheese as long as they are salty.  
Can I Freeze Pimento Cheese?
Yes, you can freeze pimento cheese in an airtight container for up to 3 months. Thaw in the refrigerator before using and be aware that the texture may change slightly upon thawing. Pimento cheese can last up to 2 weeks when stored in an airtight container in the refrigerator. Be sure to check the date on the package and look out for signs of spoilage, such as mold or unpleasant odors, before consuming.
Cabot's Spin on A Southern Stable
Homemade pimento cheese is a Southern delight that can elevate any meal or gathering. With its creamy texture, tangy flavor, and endless variations, it's no wonder it has become a beloved staple in Southern cuisine.
Whether you enjoy it as a spread, dip, or sandwich filling, learning how to make pimento cheese with our Pimento Cheese Recipe allows you to customize it to your taste preferences. So grab your ingredients, get shredding, and savor the deliciousness of homemade pimento cheese.
Bonus Pimento Cheese Recipes
Creamy pimento cheese is the delicious base for this recipe that has layers upon layers of flavor.
Perfect as an appetizer or a party snack, this recipe serves 12, allowing you to share the joy with friends and family.
Enjoy these scrumptious bites by the pool or serve them as a delectable side dish to go along with dinner.
Combine butter, bread, and pimento cheese to create a heavenly sandwich. Our Big Dish Pimento Grilled Cheese recipe serves 20, giving everyone at the table a chance to taste the magic.
If you've never whipped up some homemade bagels before, now's the time to give it a try. Once you've tasted a Cabot Baked Pimento Cheese Bagel, store-bought ones will become a sad substitute for the real thing.
Elevate your classic mac and cheese recipe by infusing our irresistible pimento cheese. This addition will instantly transform your favorite dish, making it delectably creamy and extra flavorful.
FAQs
Q: What are some popular ways to serve pimento cheese?
A: Pimento cheese can be served as a dip with crackers or vegetables, as a spread on sandwiches or toast, or as a filling in stuffed peppers, grilled cheese, or mac and cheese.
Q: What are pimentos, and can I substitute other peppers in pimento cheese?
A: Pimentos are a variety of sweet red pepper that is mild in flavor. For a spicier version, you can substitute other peppers, such as roasted red bell peppers or even jalapeños, in pimento cheese recipes.
Q: Is pimento cheese a healthy snack option?
A: Pimento cheese can be part of a balanced diet when consumed in moderation. For a healthier version, try using low-fat cheese, Greek yogurt instead of mayonnaise, or additional vegetables for added nutrition.