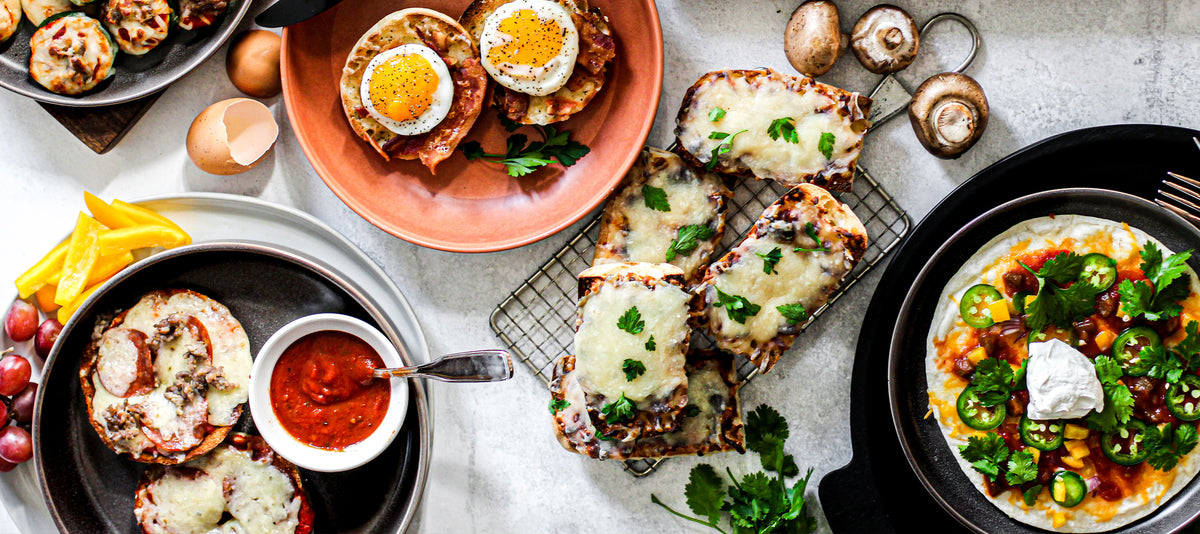 Six Mouthwatering Ways to Pizza
Sweet sauce, crispy crust, and bubbly cheese baked to molten perfection. Is there any word that makes mouths water faster than "pizza"? We think not. And Cabot farmers' award-winning cheeses add bold flavor for the gooiest pizzas imaginable. That's why we're beyond excited to share six new pizza recipes that make the most of everyday ingredients and feature an array of styles and flavors to satisfy every craving. Did somebody say pizza party?
Mexican Pizza: Easy to make on burrito size flour tortillas, then topped with our farmers' 4 Cheese Mexican Shredded Cheese and zesty sliced jalapenos, these Southwest inspired pizzas are lusciously simple to whip up for a weeknight pizza-fest.
Pizza Bagels: Top your favorite toasted bagels with tomato sauce, savory pepperoni, and Seriously Sharp Cheddar, the boldest cheddar around, for a pizza bite like no other.
Breakfast Pizzas: Add Italian flare to breakfast time with our simply delicious Breakfast Pizzas. Toast up some English Muffins, then load them with crispy bacon, fried eggs, and Cabot cheddar for a super easy, supremely delicious start to the day.
Low Carb Zucchini Pizza Rounds: We love these inventive pizza rounds for when we're craving pizza without the extra calories. Just top zucchini rounds with sweet sausage, marinara sauce, and Vermont Sharp Cheddar for perfect pizza bites on the lighter side of delicious.
Italian Dunkers: French bread pizza lovers - this one's for you! Layer soft wedges of Italian bread with lots of tomato sauce and gobs of extra-creamy, easy-melting Cabot Mozzarella for the ultimate French bread pizza feast.
Buffalo Chicken Pita Pizzas: No time to make pizza dough? No problem! Loaded with shredded chicken, buffalo sauce, and lots of aged Cabot Extra Sharp Cheddar, these beauties are easy to make on pre-made pitas and pack the bold flavor of your favorite plate of wings.
Now that you're good and hungry, it's time to crank up the oven, fill the house with bubbly cheese smells, and feast!
Thank you for supporting our farmer-owned co-op and choosing award-winning Cabot products for your family's table.