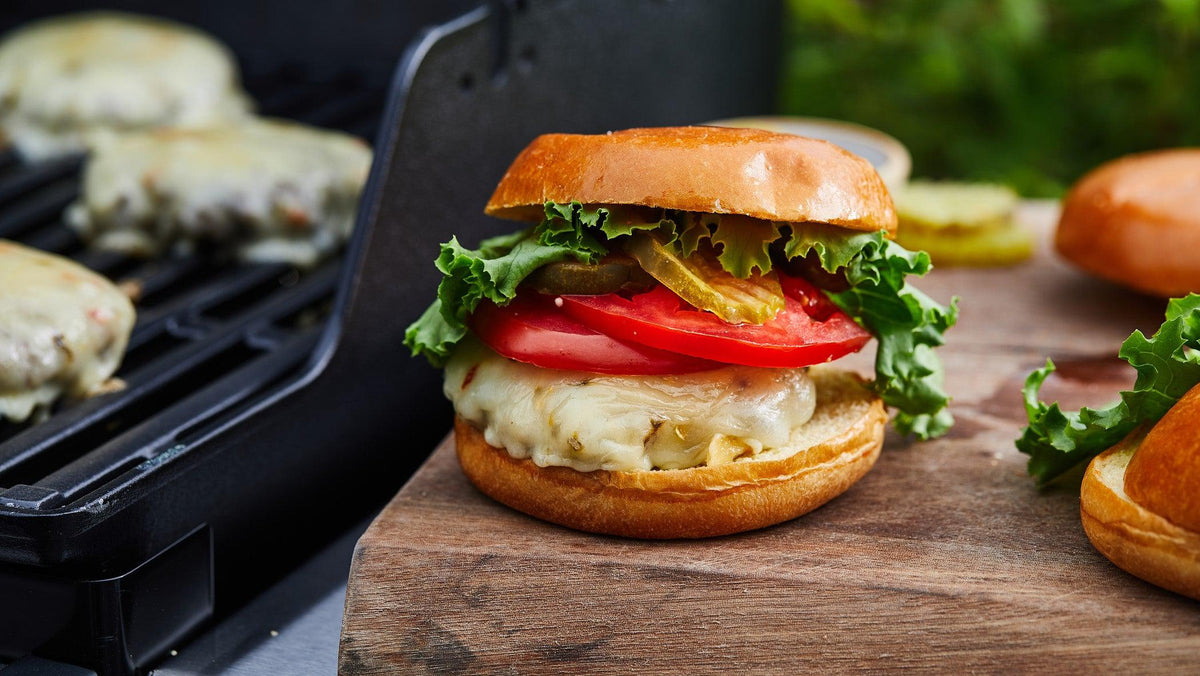 Quick Dinner Ideas For Busy Families
Summertime, and the living is…busy. OK, it may not technically be summer yet, but we are heading into the warmer months. Schools are letting out, vacations are on the horizon, and families are trying to create order out of the chaos that often ensues as the weather turns sunny and bright.
One way to cope with changing schedules and enjoy the longer days is to plan quick, easy family meals. Instead of adding stress, Cabot wants to help you find mealtime solutions that are simple to prepare, with wholesome ingredients your family will love.
We have lots of uncomplicated, delicious recipes that suit summer's ever-changing days. From backyard barbecues to picnics on the beach, family potlucks to a simple dinner for two, Cabot has recipes to help you feed hungry family and friends with a minimum of fuss.
As you think about summer meal ideas, we'd like to show you a few of our favorites.
Why not start with that American classic, the cheeseburger. Cabot's Philly Cheesesteak Burger, has that iconic taste everyone loves. And nothing says yummy good fun like a cheeseburger on the grill.
On a similarly delicious note, you may be in the mood for a slight burger change. If so, try this moist, flavorful Easy Turkey Cheeseburger for a change of pace. Lower in fat, but still full of that great burger taste; it's a win/win at your next cookout.
If you've got a busy day ahead, try this great dish from Cabot Cheese Board blogger Dashing Dish. You can make The Best Parmesan Chicken Bake ahead of time and pop it in the oven for a dinner your whole family will love.
Want an easy, one skillet dinner that's bound to please even your pickiest eater? This Chicken Enchilada Skillet from another Cabot Cheese Board blogger, Emily Bites is just the answer to your dinnertime dilemma.
Here are two simple – and simply delicious – chicken and pasta dishes that are perfect for the warmer months. First up is a Cabot favorite, Bow Ties & Chicken Confetti, a colorful dish that is light and loaded with flavor. Or how about this Penne with Chicken, Broccoli Vermont Sharp Cheddar? It's an easy but elegant way to impress family and friends. Don't tell them how easy it is to prepare. We'll keep your secret for you!
Are you one of the many people who are watching their intake of carbohydrates? Cabot has just the dish for you. These Asian Chicken Cheddar Lettuce Wraps let you enjoy the exotic flavors of the east in a satisfying meal with none of the carbs.
Need some new inspiration for Taco Tuesday? Try these outstanding Grilled Fish Tacos. Even if you're land-locked and far from the ocean, there are lots of great – and inexpensive – seafood choices in most grocery stores. These tasty tacos are a fun and festive way to follow the doctor's orders and eat more fish!
Looking for a quick fix for supper? These Vermont Grilled Cheese Sandwiches are made with ingredients you probably already have in your kitchen. They're simple and made with fresh, wholesome ingredients, just right for the family on the go.
And finally, who doesn't love macaroni and cheese? We know that sometimes the boxed kind looks like a quick fix for dinner. Cabot has a better, more nutritious solution. Why not try our 10 Minute Mac & Cheese; it's just as quick as the box, but made with our award-winning cheddar. What could be easier?