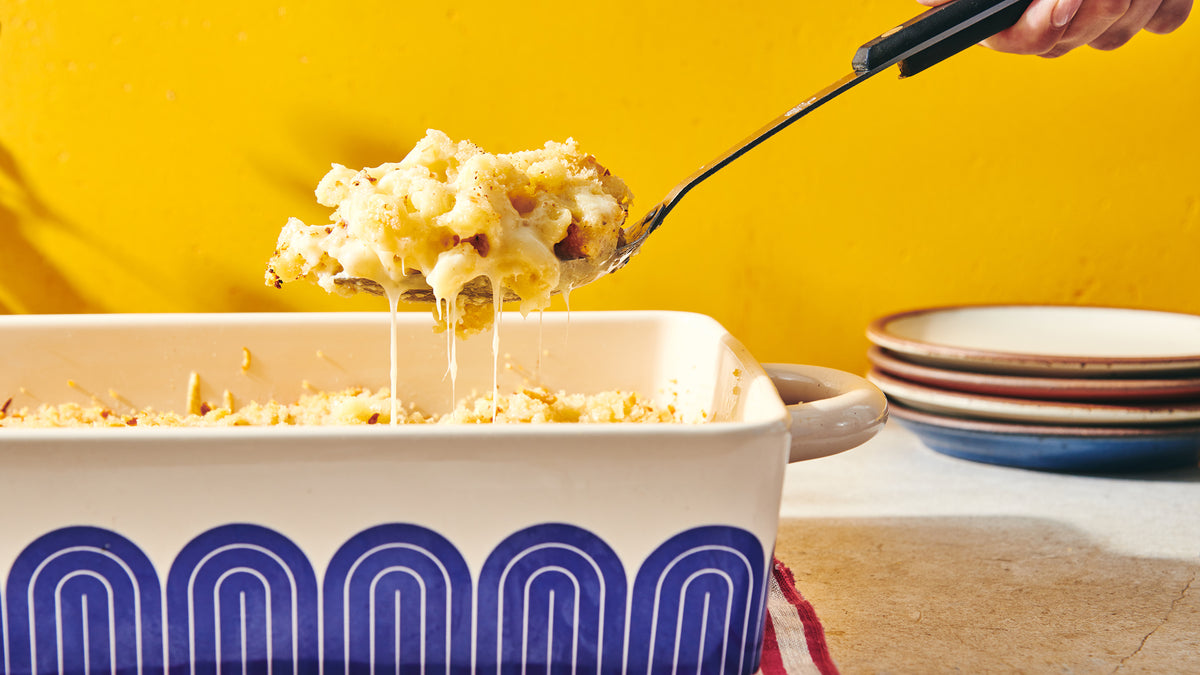 Mastering Mac and Cheese: Your Comprehensive Guide to the Ultimate Comfort Food
Is there anything better than indulging in a bowl of pasta smothered in creamy, melty cheese? Mac and cheese tops the list of favorite comfort foods for many reasons: It's cozy, satisfying, and simple to make. All you need is macaroni pasta, cheese, butter, flour, and your preferred seasonings. Make a simple cheese sauce to mix into into your cooked pasta or simply add all the ingredients into your slow cooker and let it do the work!
While the classic version is excellent, part of the beauty of mac and cheese is its versatility. Keep it simple with a handful of staple ingredients or customize the flavor with a blend of cheeses. You can also deepen the flavor profile and create a fancy dish worthy of a special occasion by adding your favorite toppings. Please the palate with some bacon crumbles, add some buttery breadcrumbs, or spice it up with some jalapenos. Whatever flavor you are craving, mac and cheese is the ideal base for some mouth-watering meals.
Mac and Cheese Ingredients
It's easy to make your own macaroni and cheese from scratch. All you need is a few simple ingredients:
Macaroni: Elbow macaroni is the most popular shape to use in mac and cheese, but any small pasta shape works well. If you don't have elbows in your pantry, substitute small shell pasta or even cavatappi.
Butter and flour: The base for the decadent cheese sauce starts with a roux made from butter and flour. A 1:1 ration that uses one part butter to an equal amount of flour is ideal. The roux acts as a thickener for the milk and adds depth to the flavor.
Milk: The backbone of any good cheese sauce is milk. It helps to create a smooth and creamy bechamel sauce that evenly coats the pasta.
Cheese: The star of the show! Whether you stick with a classic sharp cheddar or use a blend featuring favorites like muenster, the cheese you select gives the dish it's gooey consistency and rich flavor.
Seasonings: Adding some spices and seasonings to your cheese sauce is a quick and easy way to change up the taste. A bit of black pepper is a common addition. Or, try some garlic powder, onion powder, Italian seasoning, truffle oil, or even buffalo sauce for some heat.
Toppings: Make your mac and cheese even more amazing with some exciting toppings. You can add meats like bacon bits, barbecue chicken, meatballs, ham cubes, pepperoni, or ground beef to amp up the protein for a more filling meal. Veggies like broccoli, herbs such as chives, buttery breadcrumbs, and even crunchy potato chips all make wonderful toppings.
Try out a few different flavor combinations by playing with the seasonings and toppings you add to your mac and cheese. You can make it as simple or as fancy as you desire.
How to Make Mac and Cheese
Making a basic mac and cheese only takes a few steps:
Boil macaroni in salted water until al dente. Reserve some of the pasta water to loosen the cheese sauce if it becomes too thick.
Make the cheese sauce. Start by melting butter to make a roux. Add flour and cook to remove the raw taste. Next, whisk in the milk to prevent lumps. Simmer the sauce until it thickens enough to coat the back of a spoon. Now for the main event! Drop the temperature to low and stir in grated cheese until it's completely melted. Stir the pasta into the finished sauce.
Next, you can choose to add in some seasonings or toppings to customize it.
Pop your mac and cheese into the oven to bake, if the recipe calls for it, or enjoy immediately!
Best Cheese for Mac and Cheese
What is the best cheese to use in mac and cheese? This is a popular question. While some of it comes down to personal preference, there are some cheeses that are better suited to this dish because they melt well to create the right texture while adding great flavor. Some favorite varieties of cheeses include:
Cheddar: This one is no surprise. Cheddar is the go-to for many delicious mac and cheese recipes. It provides intense flavor and melts smoothly.
Gouda: Another great melting cheese is gouda. Mild yet nutty, gouda adds amazing flavor on its own or in combination with other cheeses.
Monterey Jack: Similar to cheddar, Monterey jack melts well into a gooey texture ideal for mac and cheese. Use it in place of cheddar or as an additional to your other favorites.
Parmesan: This cheese has a ton of complex, salty flavor to make your dish more interesting. Freshly grated parmesan melts well into a cheese sauce. It also makes an ideal topping to mac and cheese before baking in the oven. 
Your recipe and desired flavor combination is another factor in selecting the best cheese. If you want to stick to the classic preparation, a good quality cheddar is your main ingredient. A Southern mac and cheese may call for the addition of sour cream or eggs for a bright pop of flavor or creamier texture.
Homemade Mac and Cheese: Favorite Preparations
There are many ways to make mac and cheese. Try out these recommended recipes for some excellent flavor variations and easy cooking methods.

Alpine Cheddar and Kale Stovetop Mac & Cheese
Looking to add some greens to your mac & cheese? The pairing of tender kale with our delicious Alpine Cheddar makes for a super creamy and scrumptious mac and cheese.
Preparation Tips: Be sure to wash the kale thoroughly and remove the tough stems before chopping. Gradually add the Alpine Cheddar to the sauce to ensure a smooth, creamy texture.
Unique Features: The hearty kale and sharp Alpine Cheddar add a sophisticated touch to this stovetop mac and cheese, making it a perfect dish for a cozy family dinner or a casual dinner party.
Alpine Cheddar and Kale Stovetop Mac & Cheese Recipe
Stovetop Mac & Cheese
Make this stovetop mac and cheese dish whenever you crave a perfectly delicious bowl of comfort food and share it with loved ones. It's almost easy to make as the box kind, but it's full of healthier ingredients and the great flavor of Cabot Extra Sharp Cheddar that your family will love.
Preparation Tips: Use a combination of cheeses for depth of flavor. Remember to constantly stir the cheese sauce to prevent it from burning.
Unique Features: This recipe is a classic comfort food staple that you can easily customize with your favorite cheeses or add-ins.
Stovetop Mac and Cheese Recipe
Stovetop Smoked Ham & Broccoli Mac and Cheese
Broccoli, ham and Cabot Seriously Sharp Cheddar make this stovetop Mac and Cheese recipe easy and flavorful.  
Preparation Tips: Pre-cook the broccoli to the perfect tenderness before adding it to the mac and cheese. Dice the smoked ham into bite-sized pieces for even distribution.
Unique Features: The addition of smoked ham and broccoli adds a wonderful balance of smoky, salty, and fresh flavors to this dish, making it a well-rounded meal on its own.
Stovetop Smoked Ham & Broccoli Mac and Cheese Recipe
Crockpot Mac and Cheese
Slow Cooker Macaroni and Cheese is a flavorful meal that you start in the microwave and finish in the crock pot to save time. Cheddar cheese gets added to a standard base of butter, flour, and milk for a great taste that everyone loves.
If you want a mac and cheese recipe with great taste and easy clean up that cooks quickly, you need to try this Creamy Instant Pot Macaroni and Cheese. Layer the pasta, butter, water, seasonings, milk, and cheese into the instant pot for a meal that cooks in just 15 minutes. The combination of cheddar, Monterey jack, and cream cheese makes a creamy and decadent mac and cheese.

Creamy Instant Pot Mac and Cheese Recipe
Another instant pot favorite is this Macaroni and Cheese with Breadcrumbs. Made in just minutes, the dish gets finished with breadcrumbs toasted in butter for a crunchy and savory topping.
Baked Mac and Cheese
A classic Baked Macaroni and Cheese using cheddar cheese gets a flavor boost from tabasco sauce. Layer the prepared pasta and cheese into the baking pan and top with breadcrumbs. Pop the dish into the oven for 30 minutes to melt the cheese and brown the breadcrumb topping.
The combination of heavy cream, eggs, and evaporated milk takes this Creamy Baked Mac and Cheese to the next level. It takes just 20 minutes to prepare and bakes in the oven for 50 minutes for a gooey, cheesy meal the whole family will enjoy.
Gluten-free Baked Mac-n-Cheese uses gluten-free pasta and diced cauliflower mixed with a rich and savory sauce prepared with milk, cheddar, cream cheese, and a dash of Worcestershire sauce. Finish the dish with some cheddar cheese and buttery, gluten-free crackers, bake for 20 minutes, and enjoy a fantastic gluten-free meal.
Bonus Mac and Cheese Recipes
Now that you've mastered the basics, here are some more fun and delicious ways to make mac & cheese that will elevate your culinary skills and delight your taste buds. These creative variations will take your traditional mac & cheese to new heights, ensuring every bite is a delightful journey of flavors and textures.
Amazing macaroni starts with excellent quality cheese. Amp up your recipes with Cabot Creamery cheeses. Shop our selection today!