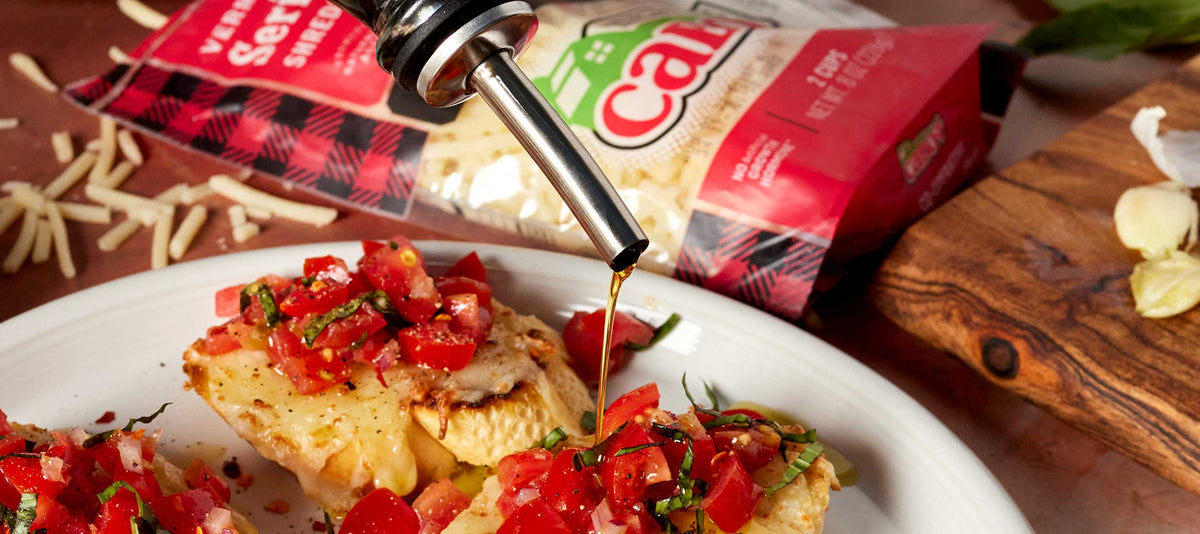 Food Is Love – Delicious Recipes For Casual Entertaining
Food is a love language for many people. Whether it's a fancy meal for a date night or cookies for the neighbors' kids, food is an easy way to show you care.
 During the winter months when the weather is less than appealing, it's always fun to host an informal gathering with friends! Throw together a few appetizers and have friends provide the drinks or make it potluck-style and have everyone bring a dish of their own.
Seriously Delicious Appetizers
From "Touchdown!" to "trick or treat" Cabot has got you covered. Whether it's just a few friends around the fire pit or a tailgating party, we have the perfect appetizers for any occasion.
You can't go wrong with crusty bread and melty cheese, especially when it's topped with juicy, ripe tomatoes.
This elevated appetizer is easy to make with the help of store-bought puff pastry.
These poppers are filled with our Cabot cream cheese, bacon and our Extra Sharp 1 year cheddar for a memorable bite.
A game day classic with double the delicious Cheddar.
And with people coming and going throughout the evening, you don't want to worry about having to keep things warm. Choose recipes that can be prepped ahead of time and served at room temperature:
A deliciously unexpected combination of flavors that will keep your guests coming back for more.
Great for entertaining or even as a light dinner on a hot summer night.
Chorizo, spices and gooey melted cheese, this dip is packed with deliciousness.
Swap in your favorite flavored Cheddar for customizable charcuterie on a stick.
Our tangy Cabot Greek Yogurt meets spicy harissa in this rich and flavorful dip.
These fresh, low carb wraps are not only addictive, but easy to make as well.
Easy to assemble and kid-friendly, just add your favorite toppings.
Easy Lunch Ideas for Guests:
Our Cabot Greek Yogurt adds a fresh and healthy twist to this classic sandwich.
Breakfast or lunch for a crowd? Look no further than this savory and satisfying frittata.
All the flavor of a classic Stromboli made simple with store-bought pizza dough.
A crowd pleasing, tasty sandwich that is quick and easy to make.
This hearty meal is easy to double and is sure to become a go-to family favorite.
Ground spicy Italian chicken sausage gives these meatballs a healthy and flavorful kick.
These melty, baked tacos make Taco Tuesday simple and delicious
Inspired by the Mexican dish Elote, this salad packs big, cravable flavor.
This dish is ideal for entertaining and doesn't require you to stand over the stove for hours.
An easily customizable appetizer for kids and adults alike.
This quick and easy recipe is perfect for meal prepping.
Dinner Party Menu Ideas for Guests:
Nothing beats handheld comfort food when it's made at home with love.
 Your favorite, melty cheesesteak flavors made easy.
Delicious, hearty comfort food, ideal for feeding a crowd.