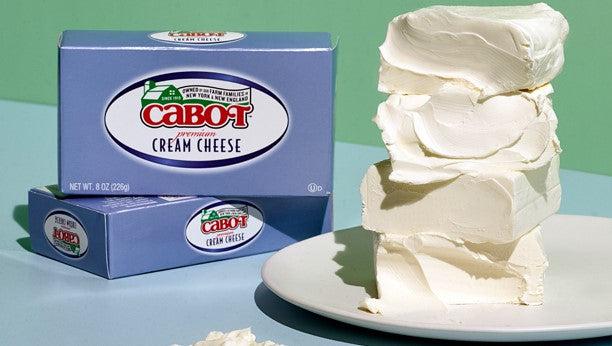 6 Scrumptious Cream Cheese Ideas
Cream cheese has long been the best friend to bagels, but it also transforms sweet baked goods and savory main dishes alike. It is incredibly versatile, super delicious, and creates perfect recipes to satisfy a hungry crowd.
What Is Cream Cheese?
Cream cheese is a soft and mild-tasting cheese made from cow's milk. It is a fresh cheese, meaning it's unaged. The production of cream cheese requires the addition of lactic acid bacteria to cream. This decreases the pH level of the cream and causes it to curdle, which is when the liquid separates from the fat. Once this state is achieved, the mixture is heated and stabilizers like carob bean gum and carrageenan are added. The result is the cream cheese you know and love.
The mild flavor of cream cheese makes it a wonderful addition to a myriad of sweet and savory dishes. This adaptability has led cream cheese to secure a place as one of America's most widely-consumed cheeses. Most cooks reach for the familiar foil-wrapped blocked to mix up a cheesecake, concoct a rich and creamy dip, or spread onto a toasted bagel for a favorite breakfast or quick, indulgent snack. If you are a burgeoning cheesemaker, you may even try making your own to use in well-loved recipes. Now that you have a better understanding of what it is, use this tangy and smooth cheese to create some of the best cream cheese recipes recommended below. A mix of sweet and savory ensures that there is something to please any palate.
6 Ways to Use Cream Cheese
Braggable Breakfast
Crowd-Pleasing Appetizers
Creamy Dips and Spreads
Savory Side Dishes
Delectable Main Courses
Delicious Desserts
Braggable Breakfast
Begin your day the right way. A sweet and tart cream cheese pastry that is the perfect breakfast option to provide lasting energy in a delicious alternative to traditional breakfast favorites. Or add a scrumptious whipped yogurt cream with cream cheese to your breakfast fruit platter - delicious!
Quick Maple-Cinnamon Rolls: There's nothing better than a delicious, gooey cinnamon roll, and these are made extra special with maple flavoring and topped with cream cheese frosting.
Whipped Yogurt Cream with Fruit: Combine cream cheese and yogurt for a healthy and luscious alternative to whipped cream.
Crowd-Pleasing Appetizers
Appetizers are some of the most popular cream cheese recipes. These excellent starters are sure to be the star of your next party.
Vermont Cheddar Gougeres with Smoked Salmon Filling: French cheese puffs with a mixture of savory cheeses and smoked salmon are the perfect elegant appetizer.
Hot as a Torch! Jalapeño Poppers: Cream cheese expertly balances the spicy bite of the jalapenos in this game-day favorite.
Warm Cheddar, Ale and Bacon Dip: This Warm Cheddar, Ale & Bacon Dip is a perfect recipe for a crowd
Creamy Dips and Spreads
Savory dips with flavored cream cheese easily feed a crowd and are a simple yet delicious must-have for any tailgate.
Hot Garlic Cheese Dip with Pretzel Crumb Topping: The perfect combination of cheeses topped with crushed Bacon Habanero Pretzel Crisps is a show-stopping dip that deserves a place on your next party menu.
Bacon Cheeseburger Skillet Dip: Enjoy the unbeatable flavors of a bacon cheeseburger in dip form!
Monterey Jack Chile Con Queso Dip: This delicious and melty queso dip will disappear fast when served with chips.
Hot Italian Cheddar Dip: A rich blend of cheeses topped with tomato, onion, and basil, this dip is sure to be a new favorite.
Buffalo Chicken Dip: A popular crowd favorite, Buffalo Chicken Dip is spicy, tangy, and disappears in a flash.
Savory Side Dishes
Side dishes featuring cream cheese pair perfectly with any dinner.
Creamy Instant Pot Mac and Cheese: (or its low-fat alternative!): Hot and gooey mac and cheese made simple in the instant pot!
Golden Mashed Party Potatoes: Give your mashed potatoes an extra kick of flavor with the addition of cheese.
Broccoli, Chicken, and Cauliflower "Rice" Casserole: Creamy cheeses and rich spices make this healthy rice alternative an unforgettable side dish.
Delectable Main Courses
The best cream cheese recipes for main courses have unbeatable richness, body, and a subtle tanginess that makes them instant hits.
Instant Pot Creamy Tomato Tortellini Soup: Silky and satisfying, the addition of cream cheese brings this soup to the next level of deliciousness.
Make-Ahead Stuffed Shells: These shells come together quickly and can be frozen to provide a quick dinner option for busy days.
Buffalo Chicken Enchiladas: Enjoy a twist on classic enchiladas with buffalo sauce.
Shrimp and Pasta Cheddar Alfredo: Cream cheese transforms the Alfredo in this main course into an unforgettable sauce you'll want to add to everything.
Delicious Desserts
Smooth, whipped cream cheese transforms boring desserts with the perfect balance of tangy and sweet.
Greek Yogurt Marbled Chocolate Brownies: Rich chocolate brownies combined with smooth cream cheese pair perfectly for a light yet scrumptious treat.
Vanilla Bean Cheesecake: Rich and creamy cheesecake with a buttery graham cracker crust is a mouthwatering dessert ideal for any occasion.
Maple Cheesecake: The subtle maple flavor of this favorite dessert makes it an excellent after-dinner treat for fall family get-togethers.
Greek Yogurt Chocolate Cupcakes with Blackberry Frosting: The blackberry cream cheese frosting and decadent chocolate cupcake is a flavor pairing that's sure to impress.
Sweet Cappuccino Kugel with Greek Yogurt: Tangy cream cheese filling pairs perfectly with the chocolate and coffee flavors of this rich kugel.
Used as a simple spread or incorporated into a favorite recipe, cream cheese is an all-star ingredient that takes many dishes from bland to outstanding. It's highly versatile and equally delicious no matter what course it features in. Cream cheese shines as the central ingredient for sweet treats such as frosting and cheesecakes, and as the savory foundation for a rich Alfredo sauce or succulent stuffed chicken. The next time you find yourself with an unused block of cream cheese on hand, try one of these delectable recipes to wow your family and friends.