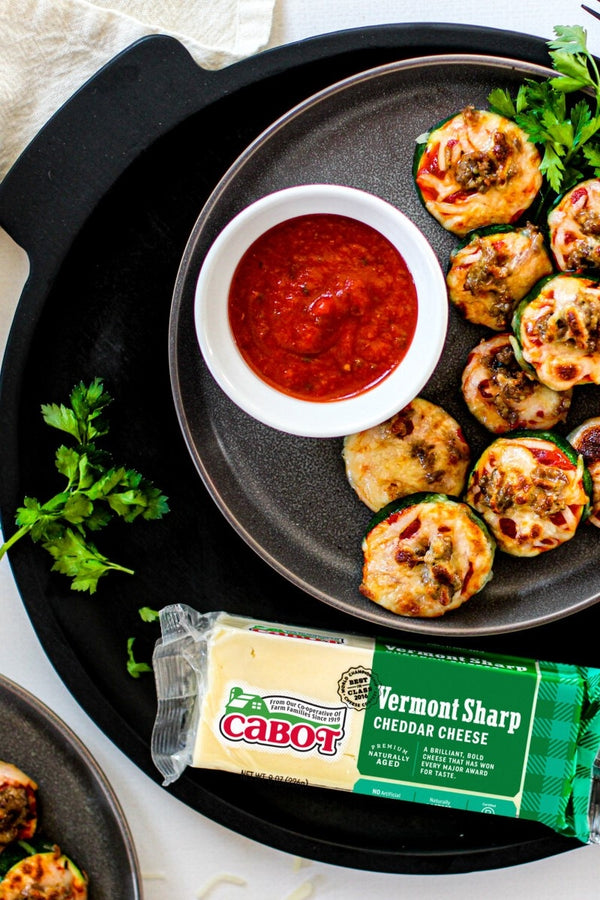 Low Carb Zucchini Pizza Rounds
These Zucchini Pizza Rounds are a low-carb alternative for pizza crust. Try making this recipe as a quick, healthy snack or for everyone to enjoy at parties!
Easy & Healthy Zucchini Recipes
Packed with fiber and low in calories, zucchini is the ideal ingredient for everything from appealing appetizers to delectable desserts. Due to its mild flavor, zucchini is also ideal for increasing your vegetable intake without changing the taste of your favorite dishes.
We have various easy zucchini recipes, including Low Carb Zucchini Pizza Rounds, zucchini bread, Roasted Zucchini and Parmesan Dip, and Grilled Cheddar Zucchini Boats. Some of our healthy zucchini recipes, like our Creamy Pesto Zoodles, include "zoodles," or zucchini noodles that look like angel hair pasta. Once you learn how to make zucchini noodles, you'll be able to swap high-carbohydrate, high-calorie pasta for zoodles packed with nutrients.
Although zucchini is a popular summer vegetable, it's available year-round, so our zucchini recipes are ideal for every season. Whether you want to make a Zucchini Broccoli Mac and Cheese on a cold winter day or a Skinny Zucchini Casserole before a fall football game, these recipes with zucchini are easy to follow and use the freshest ingredients. Zucchini is so versatile that you can use almost any preparation method, from chopping and slicing to shredding and grating.
Our recipes show you how to prepare each dish, including what ingredients you'll need and how long it will take. Start now, and you could be enjoying Zucchini Grilled Cheese, Zucchini Bread, or another tasty zucchini dish in no time at all.