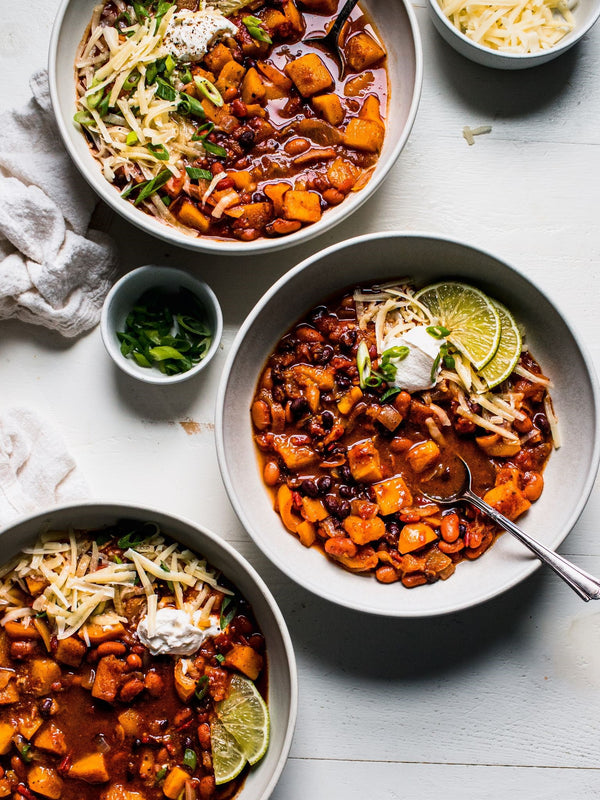 Pumpkin Chili
Spicy and sweet chili is a perfect warm up on a cold day. Try this chili with sugar pie pumpkin, Mexican spices, beans, and tangy Cabot cheddar today.
Winter Recipes
Browse our cozy selection of dishes to find winter recipe ideas that will warm you up and brighten the season.
There's nothing better on a cold day than cozying up to a delicious winter meal! For deliciousness in a dish during the colder months, look to this collection of recipes for winter. From the cheesiest grilled cheese sandwiches and creamy mac and cheese dishes to soothing soups and warming casseroles, these hot, easy dishes will get you through the season. It's always nice to find a few new recipes to add to the cold-weather rotation.
Choose from a great variety of winter meals that are sure to become staples in your home during this season. While we love every dish in this winter collection, a few favorite meals you'll want to try right away include Baked Chicken Florentine, Slow Cooker Spicy Potato Soup, Garganelli Mac 'n Cheese with Roasted Jalapenos & Bacon, Cheeseburger Chowder, Cheesy Lentils and Rice and Hearty and Spicy Chili.
For appetizers and sides that are just as comforting as main dishes, check out our Classic Poutine, Spicy Spinach Artichoke Dip, Fried Mac and Cheese Balls and Fried Brussels Sprouts with Cheese – just to name a few! Satisfy your sweet tooth with these Cheddar Mini Pops with Apples and Cinnamon, which make a perfect anytime dessert throughout the winter.