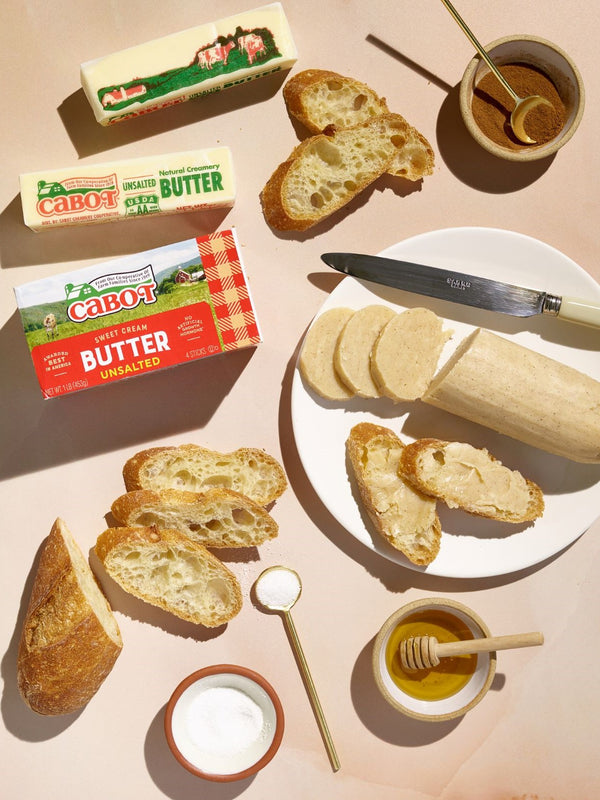 Honey Cinnamon Compound Butter
This sweet compound butter made with Cabot Unsalted Butter will be welcome at breakfast or snack time. Make up a batch today!
Appetizing Low Carb Recipes
If you're looking for some recipes to fit your low carb lifestyle or you're just trying to cut down on your carb intake, check out our low carb recipes.
For low carb breakfast options, try our Vegetable Fritatta with Cheddar Sauce, Ham, Broccoli & Alpine Omelet and Chive, Cheddar & Green Chili Corn Mini-Quiches. Brown Butter Sea Scallops, Grilled Portobello Caps, and Tandoori Murgh are just a few of our favorite low carb dinners. For fabulous low carb options anytime of the day try Cheesy Cauliflower Tots, Pimento Cheese Stuffed Olives and Stuffed Sweet Peppers with Pancetta & Cheddar
Don't want to give up dessert? Our low carb desserts are a guilt free indulgence. Try our Greek Yogurt Chewy Breakfast Cookies (which are definitely not just for breakfast!) and Chocolate Chia Protein Balls. One thing is certain: with these delicious low carb recipes, you won't miss the bread, pasta and rice and will be left completely satisfied. There's truly something for everyone here!